I remember it just like it was yesterday, Betty and I got back home with our new Oliver, hull #3, it was cold weather and we were still in the work a day world so we needed to drain the fresh water tank. Though we had received a good explanation of the various systems, when we looked under the curb side cushion, it was like, "holey cow, how will we ever find that valve in all of that hardware!"
Russ and Janie McKnight must have had a similar experience when they called my cell phone one weekend. Here is a narrative by Russ with photos by Janie.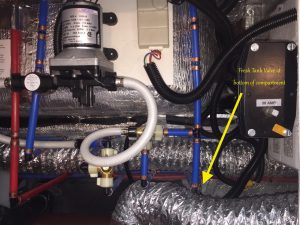 Having never owned an RV or travel trailer before, we've been on a steep learning curve with figuring out the fundamentals, much less the bells and whistles. We picked up our Ollie on March 2nd, and were dismayed to see snow in the forecast when we got back home to PA three weeks later. We knew we needed to drain the tanks, but couldn't get the fresh water tank below 31%.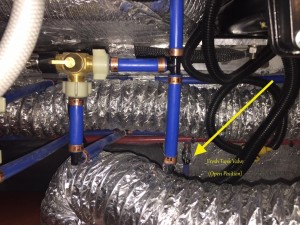 Having no idea where the fresh water drain valve was, we called Larry "MountainBorn" Harmon, who talked us through it. We found the release valve located underneath the curbside seat nearest the kitchen counter, switched it to the open position, and cranked up the front of the trailer. Success!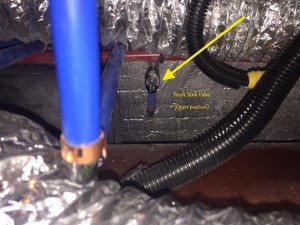 Russ & Janie's new Elite II has even more high tech equipment yet in their unit, so the drain valve was really out of sight !
Thanks to our friends the McKnights for this timely article!