Boondocking in it's strictest form, without support.
Many RVer's perceive that this means staying camped in their chosen location as long as the stuff that they bring with them lasts. And often times this can come down to how much water you brought with you.
Limited space for stuff seems to be the main controlling factor. Black and grey water holding tanks are usually fixed size containers that are installed by the camper manufacturer. Filling black and grey tanks to capacity usually depends upon their size and your stay time, but even one trip a day to a primitive campground's vault toilet can really extend your stay.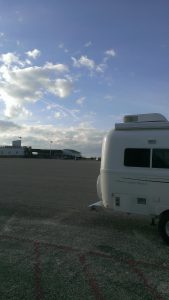 Some of the campgrounds that we have stayed in out West on the USFS ( United States Forest Service ) and BLM ( Bureau of Land Management ), don't mind the careful discharge of grey water when it is at considerable distance from a stream. These less strict campgrounds are nearly always up high and way back in the more arid mountainous places. Their current position on grey water under these conditions is that it can be beneficial to tree life.
Now under those conditions an outside shower with solar heated water can be a really fine thing and stretch out your stay. Also being able to put a small dish pan of dishwashing grey water under a needy tree can do likewise. Probably the most common grey water storage saving under those conditions can be attained by hooking a hose to the grey water tank and placing it a strategic and appropriate location. With the hose hooked up many molded fiberglass camping friends follow this shower sequence.
- Put plug in sink
- Adjust shower water temperature catching that water in the sink
- Put shaving lather in the sink water to warm up
- Wet down then turn the water off at the showerhead to keep the temperature unchanged
- Lather down
- Rinse off, turn water off
- Shave, rinse, turn water off
Some even plug the shower pan drain to catch that soapy shower water, add Epsom salts to it and soak their feet. Under this strict water rationing protocol many campers report using a gallon to a gallon and a half to complete the process. Your method can vary considerably but you get the idea!
Ice Chest use is somewhat similar in frugality. Some will fill drinking water containers and freeze them at home before the camping trip. Put the frozen containers in an ice chest to keep perishables fresh then they can use the remaining water as needed around camp.
There are way too many such clever ideas to be able to cover them in such a short writing, but your imagination will doubtless come up with many more !
DISPERSED CAMPING, a term used by USFS & BLM for when there are no facilities at all. Some of the coolest camping of all and often times in some of the most pristine wilderness. One popular camping site in the Southwest is near Quartzsite Arizona where in January and February there will be tens of thousands of RV's scattered across the desert. BLM sells a Long Term Visitors' pass that will allow winter visitors to stay for several months. In town there are RV service sites that specialize in providing tank dump sites and fresh water fills. Many RVers there move every two weeks and go through town to dump, fill with water and move to another camping place. There are even mobile water delivery and pump out services along with mobile RV repair technicians.