Stretching your resources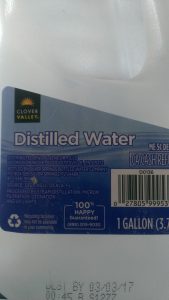 Just suppose that it is a holiday weekend, one of those cool three day holiday's. You are used to boondocking for Friday night, Saturday and leaving back to civilization on Sunday. But now, you have an extra day to unwind and commune with nature. Most of us only have a limited amount of storage space in our camper and that means packing extra stuff can be a challenge. Boondocker's have so many clever ways of stretching their resources that we could never cover them all in our limited space, so we will touch base with some of the more common ways and let your imagination be your creative guide.
WATER is heavy, takes up a lot of space and in some places it is not readily available. Under those challenging conditions, bringing it with you is necessary. Since your fresh water tank can only hold so much, many boondocker's look for a way to make that weight count twice. Freezing gallon jugs of store bought water gives you long lasting blocks of ice for your ice chest that can be used for drinking or cooking after it has melted.
a. Bathing, shaving and other chores can be done with a small amount of water in the sink using a washcloth. Most commonly refer to this as a "spit bath". As molded fiberglass enthusiast, Betty and I usually do a very quick wet down, soap down and rinse off that goes like this. Put plug in sink
b. Adjust shower water temperature catching that water in the sink
c. Put shaving lather in the sink water to warm up
d. Wet down then turn the water off at the showerhead to keep the temperature unchanged
e. Lather down
f. Rinse off, turn water off
This method can be stretched even one step further and is popular in the arid desert southwest. Catch the gallon or so of shower water in the shower floor pan with a stopper and add Epsom salts for soaking the tired hiker's feet.
GREY WATER storage can be extended in some arid areas operated by the U S Forest Service or Bureau of Land Management if your campsite is well away from streams or reservoirs and you carefully surface discharge your grey water. In these situations it is advisable to check with the local Ranger to insure whether or not it is a local custom.
BLACK WATER by it's very nature must be handled very carefully. Most camper's have enough black water storage for a week or more, so an extended weekend will not create a issue there. If handling black water is necessary many deem the "blue boy", "EZ TOTE" or similar container as the safest way to handle the black water.
PROPANE is a bit more difficult to stretch, but the main ways that most boondockers' use is reduced hours of use, cooking over a, open fire, or using a small generator for heat or cooking power source. For most camping trailers an extended weekend is not a propane issue.
GASOLINE for a small generator as well as PROPANE give some cause for safety concerns and those folks seek other methods that can sometimes be difficult and or expensive.
FOOD is space consuming and it's weight has been addressed by the back packing community quite handily. The easy and convenient solution is to go the dehydrated route which makes many meals fit into a small light weight space.
CLOTHING is also handled by back packers quite readily. The secret is lightweight layered high tech fabrics.

Here's hoping that these few simple hint's help you on your journey to a enjoyable extended boondocking experience.