Once the cast iron is ready how do I keep it that way?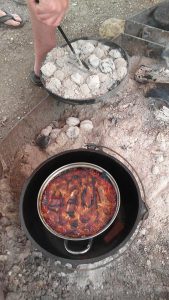 As a child here in these Ouachita mountains I discovered that there were some pretty cool secrets to be gleaned from a visit to Grandma's kitchen. However this neat trick came from helping Grandpa' as we processed a couple of fattening hogs for the freezer. Grandpa deftly removed a couple of hog's tails and handed them to me, saying that I should take them to Grandma' who was preparing some of the hog's finer cuts in the kitchen. When I asked if she was going to cook up the hog tails, she laughed out loud, put a small slice of fresh buttermilk pie on the table and said to me, "wash up and snack on this while I tell you a story."
Now, Grandma's story was a trip back in time to life in the mountains between the two world wars when times was hard and life was a bit "catch as catch can".
The short of the story is that most mountaineer's cabins had a pigtail on a string hanging from a nail up on the wall behind the old wood cook stove. After cleaning the cast iron, it was warmed on the stove and the pig tail which was almost all fat, would be rubbed all over it to keep it oiled up and rust free.
He, he, now, there are ever so many reasons that we aren't doing it that way now a' day's ! But the main principle of the story is the way to have your cast iron ready for it's next outing. It just needs a light sheen of oil wiped on it while warm, using a paper towel. Then it is ready for storage. Yep, it is just that simple, pigtail not required!