Charcoal briquettes or campfire coals, your choice.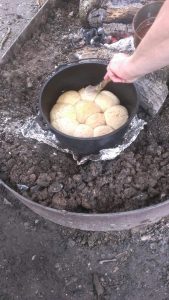 When the wagon trains were moving west as America was being settled, there weren't any charcoal briquettes down at the corner convenience store, so everyone used hard wood or buffalo chips for cooking fuel. While cooking with coals from the campfire, using a grid works well for the bottom heat in a Dutch oven, but what about the top ? Most users put live coals up onto the Dutch oven top with a metal scoop or tongs. Live coals from the campfire are not tightly compacted like the charcoal briquettes are and must be replenished more often.
While on the topic about wagon trains and live coals, I have been asked why the Dutch oven could be seen hanging from underneath the wagon at the back. It was a safe way to transport fire from one night camp to another. They would put a scoop of ashes in the oven, then a scoop of live coals topped with a scoop of ash and the lid put on.
Because live coals tend to burn with a higher intensity they burn out quicker and need to be replenished more often, making temperature regulation somewhat more difficult. A long handle shovel makes handling live coals more comfortable because of the more intense heat.
Betty and I like live coals for Dutch oven biscuits in the morning so we will add extra fuel to the campfire and shovel dirt over it to bank it up overnight. That newly added fuel will become charcoal overnight and you just pull the cover of dirt off to the side, shoveling the live coals as needed. As the dirt is removed the charcoal gets the air that is needed for combustion and begin to glow brightly immediately. Again, a long handle shovel is a handy thing.