A SERIES OF ARTICLES ABOUT REFURBISHING AND USING CAST IRON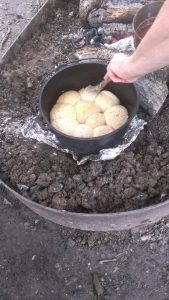 In this final part of the Dutch oven series, the meat of our topic has been revealed right along through the series, a little at a time, out of necessity, in order to fully cover each area. So, let's pull those little fragments together.
INSIDE cast iron care, maintenance and storage. Simply put, oil it, and keep it oiled. Cooking oil of the type that you plan to cook with will work nicely. Some folks will fold up a few layers of paper towel, soaking them slightly in the oil and leave them inside the cast iron so that it is handy to rub it with. If this is your choice care must be exercised not to over saturate the towels as they will attract dust and so forth.
OUTSIDE cast iron care is often done in one of two ways, lightly oiled or well smutted as it comes from the cook fire. Either way provides a quality rust resistant coating and it works well. However both ways will rub off onto anything that they touch. A carrying case , box or bag is in order. Heavy fabric shopping bags seem to work well for us.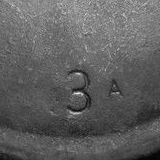 Some cast iron cookware can be quite collectable and fairly valuable, so keeping it in that "ready to use" condition is a natural concern.
Learning how to determine the value and collectability of your cast iron is not difficult at all since there are so many online resources out there on the internet. Here is a link to one such page that talks about the numbers on the cookware and how to read them.