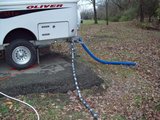 Our first year that we work camped for Amazon, was in Coffeyville, Kansas. We had just finished the sugar beet harvest up in North Dakota and the winter weather there had been brutal. It was warmer, further south in Kansas, but we knew that winter was close on our heels. We were camped in the State Park at Elk City Lake with water, electricity and weekly pump out service. The long range weather forecast was absolutely horrific! However we had a couple of days off to get ready. The first order of business was a freeze proof water hose. None were available locally and a mail order one would take longer than we had. Here is a look at one that is currently available on a popular auction website, it is 12' long and lists for $85.
We had to build one. It seemed to be our only choice. We are still using it to this day, when one is called for. Here is a look.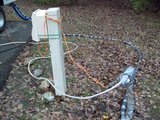 Another view, note the abundance of duct tape to toughen it up:
It was actually less effort than we thought it would be. A quick trip to the hardware store for 1" x 6' foam insulation like this: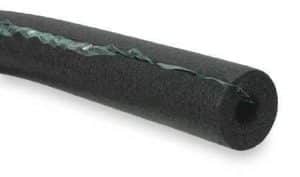 Once you have it installed just pull the thin plastic strip away and it sticks together.
We also picked up an electric heat tape that was somewhat longer than the hose length so the fittings on each end can also be wrapped. Ours were similar to this one.
We also picked up duct tape to reinforce the insulation and keep it in place.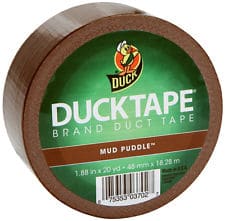 Assembling the homemade freezeproof hose went like this. Stretch out the hose and wrap it with the heat tape. Then cover with the foam insulation, sealing the joints with duct tape and adding tape every few inches for strength.
Now the finished product wasn't very pretty, but it worked and is still working today. The end that hooked to the freeze proof faucet was wrapped with the extra heat tape and covered with a blanket and trash can to shed precipitation.