Normally they are out of sight and out of mind. That is, until you need to know their level status and push a button on the tank monitor panel. The three tanks, fresh water, grey water and black water are all located in the Oliver's floor out of sight.
This location is one of the reasons that the Oliver handles so well. Those liquids weigh roughly eight pounds per gallon and getting them down between the frame rails, or as close as possible, keeps the center of gravity low and really improves handling. The black water tank is the smallest of the three and it is located under the bathroom floor, but immediately above the frame. The fresh water and the grey water are much larger and are nestled down in between the frame rails.
As RV'ers, we tend to want our tanks as full or as empty as is possible, depending on if we are out on the road or in storage at home. One little trick to get that done is to raise or lower the tongue of the trailer with the electric jack to expedite the emptying or filling of the tanks. When filling fresh water, ensure that the trailer tongue is level or maybe slightly lower by using the electric tongue jack for a complete fill. For a more complete emptying of the fresh water or the grey water tanks, raising the tongue with the electric jack does the trick.
The black water tank is nearly square and slightly higher than the fresh and grey water tanks, and the tongue jack has less effect on it.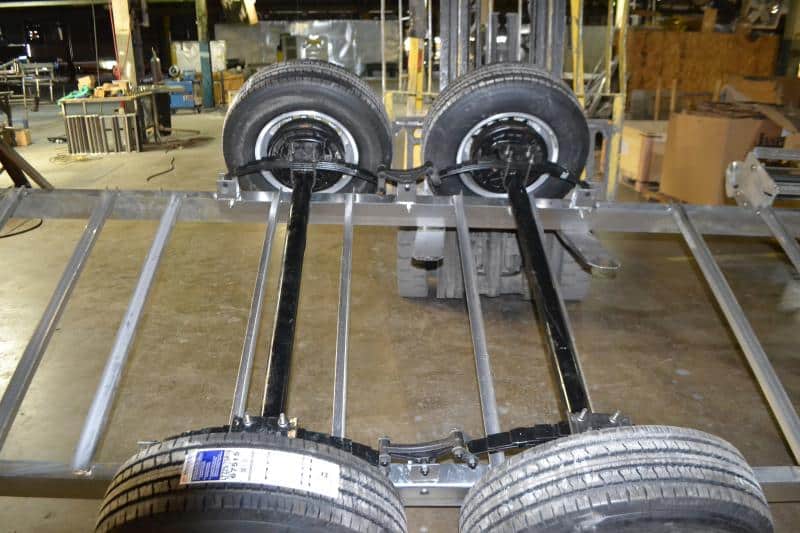 The fresh water and the grey water tanks are longer and flatter, and the tongue jack can readily effect the filling and emptying efficiency of them.
Here is a look at an Elite II frame so you can get an idea of where those tanks are located and their long flat configuration. In this photo the frame is upside down while the axles are being attached. None the less one can readily see where the tanks will be located when turned back over, making the center of gravity very low for better handling.
Here is a short video of the frame when it is sitting on it's wheels.