There are washers, and then there are washers, and you don't have to own an travel trailer for very long before you figure out just which ones work for you. And, you will always keep a few spares around for emergency's.
We are talking about rubber water hose washers, the inexpensive, easily lost and just "gotta' have" washers. They come in all colors and types and if you believe the advert on the package, one size fits all. A quick look at this handy assortment of hose washers will let even the most casual of observers see that there can be quite a difference in them.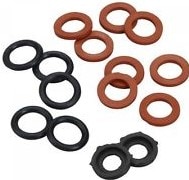 In this photo it is easy to see that the inside diameter hole, that the water passes through, is quite different. Then there is those at the bottom of the photo that has the funny little ears or locking tabs on the outside diameter to keep them from falling out every time you take the hose on or off.
Occasionally, there are times when adding an extra washer or doubling up the thickness will get a leaky hose fitting to stop dripping. Now that can be important, in some Desert South West campgrounds. Screened washers in brass or stainless steel normally go at the RV end of the water hose just as it goes into the RV. During the normal process of checking and cleaning, (WHAT!) why would campground water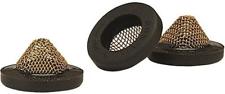 require a screen cleaning ? Because all water is not created equal, especially in the dessert South West where Iron and alkali levels vary widely. Often the mill scale that will collect on the screen clears readily, but the screen becomes misshapen with the handling which can reduce flow and cause the need for replacement.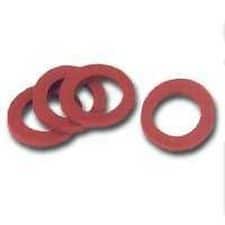 As the need arises and you add another length of hose or replace a hose, the odds are that the fittings on the end will be just a little bit different and the washer that comes with the new hose will likely be a bit different also.
When you are in the hardware store and pick up one of those green plastic "cards" of hose washers it is pretty easy to forget that a garden hose with a tiny leak at the connection may be acceptable and that those plastic washers being made of a harder material, that may not seal as well, might not be ok in a campground.
As the average water hose washer ages, hardens and shrinks it becomes loose in the hose end and can fall out or not seal well, so a selection of washers in a small zip lock baggie won't cost but pennies and can surely make the camping trip go better upon occasion!