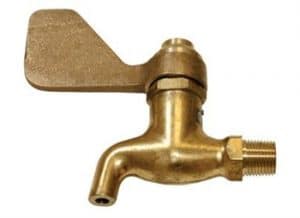 You have been camped for a week in your travel trailer up near the Continental Divide National Scenic hiking trail and it has been great. Taking early morning hikes, getting back into camp just before the late afternoon Monsoon rain, a quick shower, a nap and fantastic campfire camaraderie in the evenings. Only one thing could make it any better. Another week of the same!
However there is a little catch, those soothing and relaxing showers have cut deeply into your water supply and you are very close to out. You have saved black water space with day time trips as needed to the vault toilet, so you are ok for another week in that area. A quick check with the campground host couple, revealed that the local ranger district was not adverse to judicious grey water release and they suggested a needy place for that right by your campsite.
The campground has a tested and approved water system and there is a single water faucet on each loop near the vault toilet, 65 yards away. But here is what the faucet looks like:
Uh-Oh, no way to hook up a water hose to that! Oh, wait a minute! It has been rattling around in your gear box for many miles and when you go look for it, there it is! The water Bandit.
Here is a look: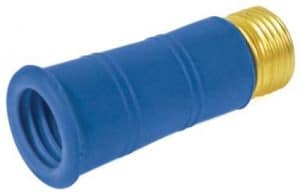 This version is sold by Camco and is available at most RV supply locations (Camco 22484 Water Bandit)
Currently selling on Amazon for $4, one might add it to an existing order and not even have to pay a shipping charge!
We have used ours for long enough that it doesn't grip the faucet as well as it used to and it leaks a bit, so we will be adding one to our next order.
Yep, we travel with a Bandit all of the time!