By Mary Kay Cvacho
We kicked off the rally Wednesday with an informal activity that we called, "Dessert by the Lake" where we all met at the Beach Pavilion and were treated to desserts, some of which were provided by Oliver vendors, and Oliver owners. It was a fun time to meet new friends and see friends that we had not seen since last year's rally.
Thursday morning began with a nature talk and hike by Lake Guntersville State Parks' Naturalist, Mike Ezell.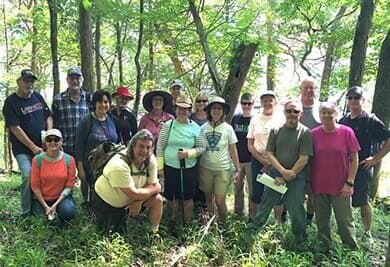 Thursday morning and Friday afternoon, we offered two maintenance workshops, "Maintenance - Anodes" Workshop and "Maintenance - Truma" Workshop. Feedback from the owners and workshop leaders told us that this was well-received, and that many people learned a lot about their anodes and water heaters and how to maintain them.
Rally Registration was held Thursday afternoon at the Gathering Place. Many volunteers helped everyone check in and sign up for activities. Pictured: Malcolm Monlezun and Carol Thompson, Henry and Kristie in background.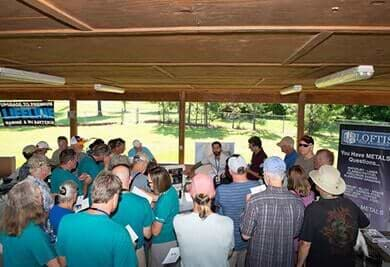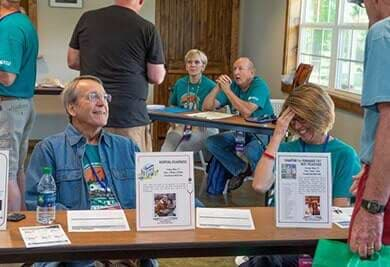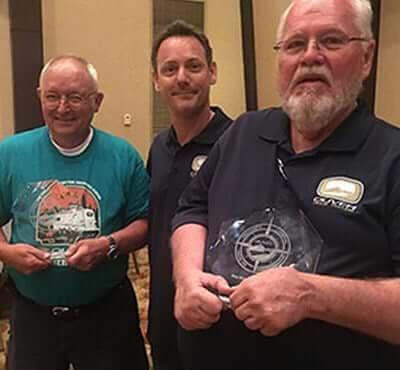 Thursday night was our Opening Ceremony held in the Grandview Ballroom inside the Lodge, followed by a delicious traditional southern barbecue dinner. We heard from Coy Gayle, Rally Chairman, and Scott Oliver, President of Oliver Travel Trailers. During the ceremony Scott awarded Steve Landrum and Coy Gayle the President's Awards.
Pictured: Steve Landrum, Scott Oliver, and Coy Gayle
Friday, Saturday, and Sunday Breakfasts were held in the Beach Pavilion where many people enjoyed sitting and visiting over breakfast. A special thank you to Gary and Ann Slaybaugh for volunteering to head up the breakfasts. They both went above and beyond to make sure that not only the breakfasts were well taken care of but also that they kept the vendors and sales staff stocked with water and snacks on the warm days in the vendor areas.
Friday's events started off with Zip Lining and a Golf Tournament. The Golf tournament was enjoyed by Oliver owners, vendors, and Oliver employees. It has been an activity that several have looked forward to every year.
2nd Picture are the Golf Tournament Winners: Denny McKilligan, Jim Pennington (TexTrail), DeAnna Hicklin, Don Waters, and Bruce Twigg.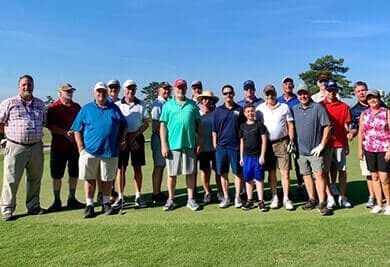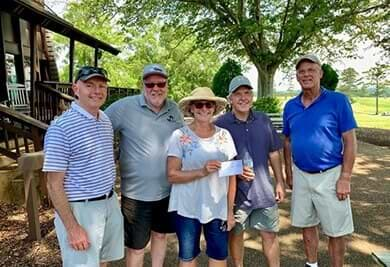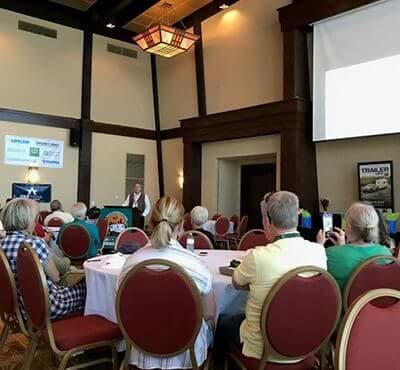 Dr. Malcolm Monlezun and his wife, Ursula, put together an interesting talk about Hospital Readiness and what all we need, in order to be prepared in the event of a medical emergency.
Everyone was given a form to read along with the presentation, and to take notes on. This form and another website the Monlezuns mention in their presentation are on the Oliver forums under the 2019 Rally.
Everyone should take the time to fill out this form completely, place it in a handy location that you and your immediate family will remember, and take it with you on trips, so you will be prepared in case you need it.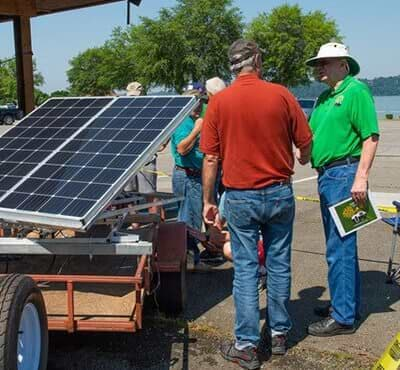 The Vendor Area was open several times during the rally. The Oliver vendors were there ready and eager to answer questions, demonstrate their products, and visit with owners.
We appreciate each one of them for coming and sponsoring the rally, and representing their companies.
Pictured: Happy Camper Solar, Jim Pennington with Textrail, Jason Martel with Lifeline.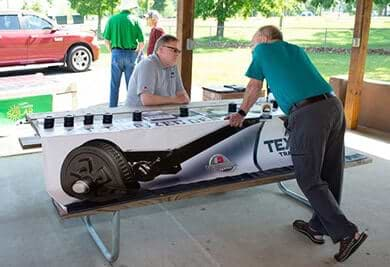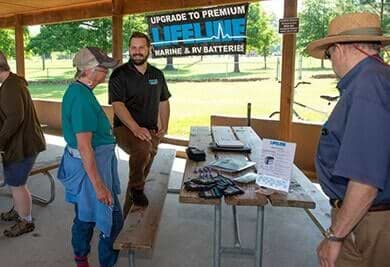 A much larger than expected Friday night turn-out of participants enjoyed a beautiful outdoor setting at the Jules J. Berta Vineyard for wine tasting and wood-fired pizza dinner.
Following the wine tasting led by Jules' son and daughter-in-law was a wood-fired pizza buffet with Mediterranean salad hosted by Jules' wife, Becky. After dinner Jules invited all that wanted to participate on an incredibly interesting and entertaining tour of the vineyards that he and his father created. The highlight of the evening was the story about Jules' passion for his vineyard, his love of America, and a description of his parents' participation in Hungary's 1956 unsuccessful ejection of the Soviet Union from their country. Jules' parents subsequently immigrated to the U.S. and moved to the Sand Mountain area of Alabama. Jules' father realized that the micro-climate of Sand Mountain was very similar to his home country, and started experimenting with different grapes. The rest is a very interesting and "tasteful" history.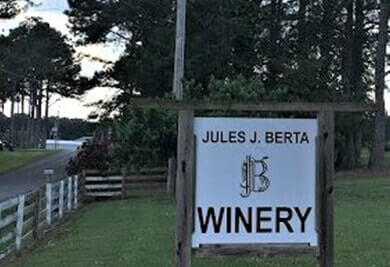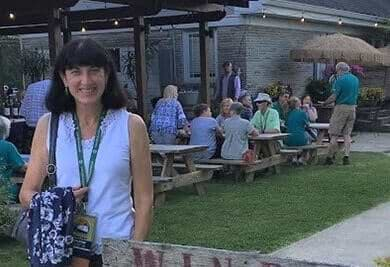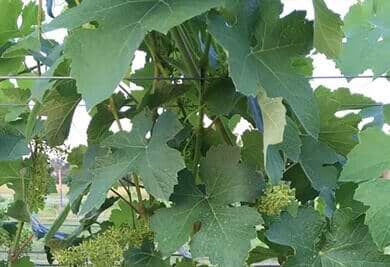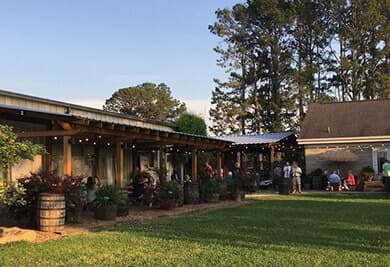 Bill Snider, from Dexter Axle came to teach the Bearings Workshop on Saturday morning. He taught us how to change and grease our wheel bearings, and what is important. He also taught us everything about our wheels, axles, and when and how to inspect them.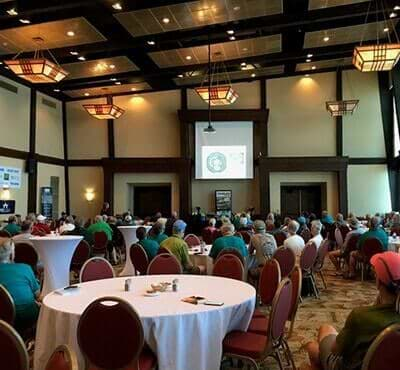 When Bill learned about some of the Oliver owners' specific concerns about axles, he offered to go to each of their trailers and look at the issues. He showed us exactly what to look for and how to fix their problems and everyone was impressed by Bill's eagerness to help. Finally, a big thank you to Jim Pennington, Oliver's TexTrail representative, for helping us to secure Bill this year!
This year we held the first Ladder Ball Tournament on Saturday afternoon and we hope it will be something that everyone will look forward to every year.
Ladder Ball Tournament Winners:
1st place: Justin Martel, Lifeline Batteries and Tali Landrum
2nd place: Janie McKnight and Debbie LaFleiche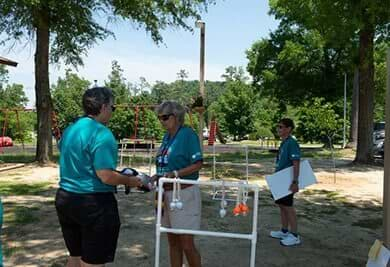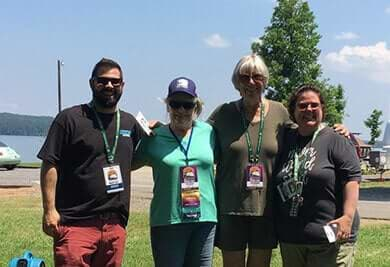 Trailer Show and Tell was a good time to see others' Olivers. Those who opened their trailers for visitors enjoyed sharing modifications that they had done, decorating and storage ideas, and visiting with like-minded campers. Many of our new and prospective owners gained some good tips and ideas.
For dinner Saturday night's prime rib buffet was phenomenal, I think everyone enjoyed it and the Lodge staff did an incredible job! After dinner we had a very interesting keynote speaker Ian Giles, who helped organize the 50th Boler Rally in Canada earlier this year. You can see his entire powerPoint presentation on the Oliver forums.
We finished the night off with a Sock Hop and whether you danced or watched others dance, the music was great, and it was a lot of fun. The Oliver vendors sent some really nice prizes, we ended up having enough door prizes for every trailer to receive at least one. All the ticket numbers were put back in the hat for the drawing of the three grand prizes - a Dish Play Maker, donated by Winegard; a mobile solar panel, donated by Zamp; and a mobile cooler/refrigerator, donated by Dometic. All the other door prizes were of various values, some $10, $25, $50 gift cards, tumblers and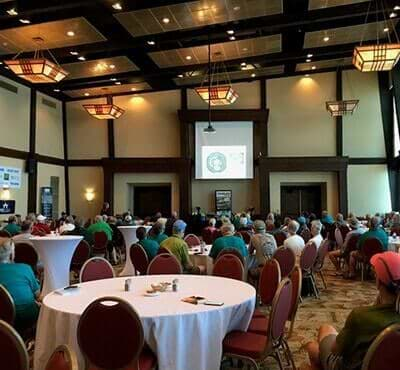 hats from various companies, bottles of wine, sewer hoses and other camping related items, entire brake assemblies from Dexter, and lots more. We all really appreciate all the generous donations from the Oliver vendors, Oliver Travel Trailer owners, Guntersville businesses, as well as others. Another great surprise for the night was when Oliver Sales Team member Phil Andrews was awarded the Rally Chairman's Award by Coy Gayle.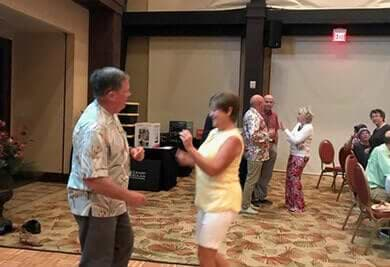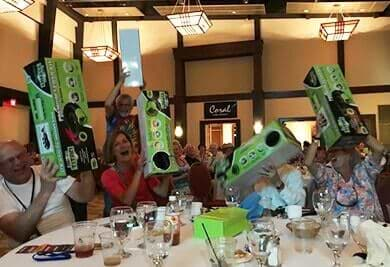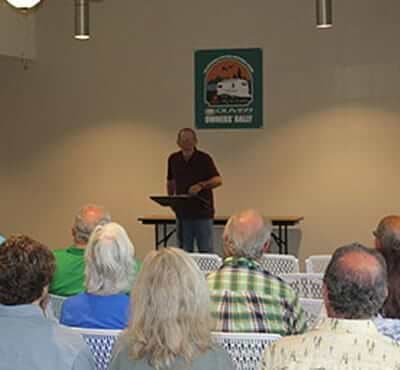 We appreciate Rev. Holsenback, a local minister, coming to conduct our church service Sunday morning.
He related several stories of hardship and encouraged us as to how to overcome adversity by depending on God.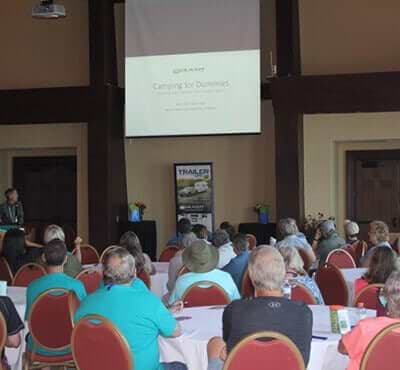 Camping for Dummies was written and presented by Oliver Travel Trailer Owner, Mike Thompson. Mike put together a very informative and entertaining program that taught us several "how to's" and tips for our Ollies and camping in general. We have heard of other owners putting some of these tips into place in their own trailers and Mike compiled them and presented a great program, that was not only beneficial by giving us new information, but was also presented in such an interesting way.
Each year, Boondocking has been a popular topic so this year we decided to present this topic by having a panel of experienced boondockers. We included three of our own owners with various levels of Boondocking experience, and we asked our Keynote speaker from Canada, Ian Giles to join the panel. Several topics were discussed, including the typical important ones like water conservation, and black and gray tanks.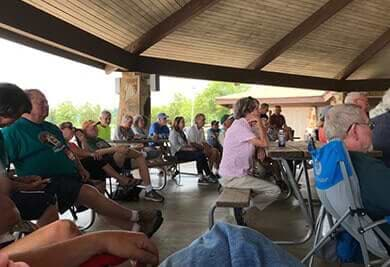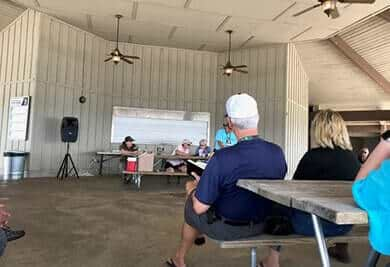 Our rally ended this year with a trip to the beautiful Cathedral Caverns. A group of 17 Oliver Travel Trailer Owners caravanned and toured to the caverns together, and then enjoyed dinner at a local restaurant on the way back to the campground. It was a special time of a shared experience with new and old friends.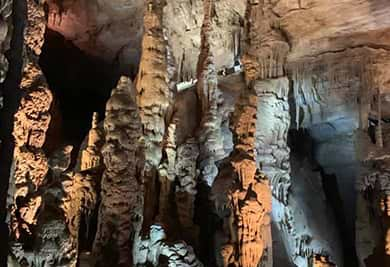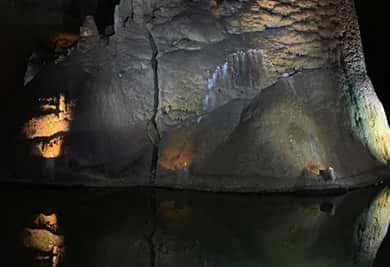 We learned many things this year, as we do each year from lecture-type programs, interactive maintenance workshops, and fun activities. We are working on sponsorships, and hopefully within the next few months, we will be able to let everyone know the final cost of the 2020 rally. Please go ahead and call the campground at (256) 571-5455 to secure your campsite for the dates that you want. The 2020 Oliver Travel Trailer Owners' Rally dates are May 14 - May 17. As soon as we know what the rally registration rate will be, we will advertise that with instructions where to call to register for the rally. Again, thank you to all the sponsors, donors, vendors, workshop facilitators and speakers, program speakers, activity leaders, and all our hard-working volunteers!
See you at next year's Oliver Travel Trailer Owners' Rally.
Special Thank You to all of the 2019 Oliver Rally Volunteers!
Cheryl A.
Janis B.
Mike B.
Russell B.
Tom C.
Frank C.
Cheryl C.
Ken C.
Mary Kay C.
Margaret E.
Coy G.
Olivia H.
DeAnna H.
Leslie H.
Steve L.
Tali L.
Debbie L.
Vickie L.
Rick L.
Jim M.
Mary M.
Denny M.
Karen M.
Janie M.
Russ M.
Malcolm M.
Ursula M.
Mike M.
Donna P.
Tom P.
Kathy R.
John R.
Liye R.
Henry S.
Kristie S.
Bill S.
Leslie S.
Gregg S.
Donna S.
Frank S.
Lori S.
Paula S.
Ann S.
Gary S.
Lee S.
Teri S.
Foy S.
Mirna S.
Mike T.
Carol T.
Kim T.
Betty T.
Steve T.
Darrell W.
Kathy W.
Sharon W.