Towing with Toyota
If you and your family have been searching for a new truck or SUV that can handle the weight of towing your travel trailer, then you are in luck! Toyota trucks and SUVs are built for towing with their powerful engines and high towing capacities. The Toyota brand is synonymous with reliability and longevity, but the Land Cruiser, Sequoia, Tacoma, and Tundra models show off their power and performance as well.
When determining what your towing needs are, you should think about the weight of the item that you will be towing, the curb weight of the vehicle – or the weight of the vehicle with all equipment and oil present – and the Gross Combined Weight Rating (GCWR). After you have determined what you will need, then you can look for the Toyota model that meets those needs.
Tacoma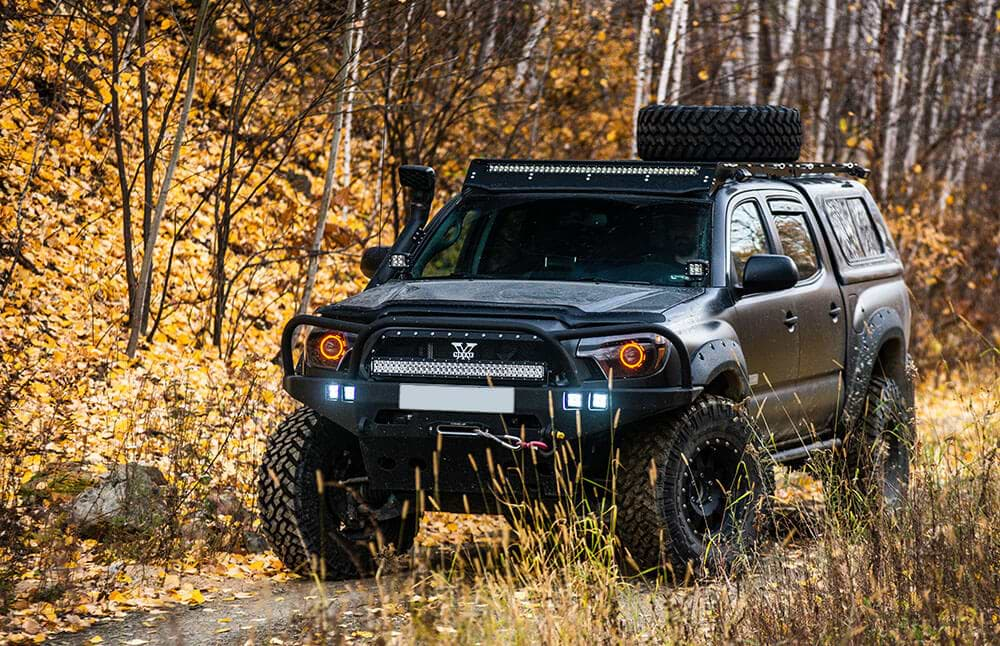 If you want a truck that can handle off-roading and towing your travel trailer anywhere you want to go, then the Toyota Tacoma is a great option for you. The Tacoma comes with a V6 engine and delivers up to 279 horsepower with 265 pound-feet of torque. This powerful machine will give you all the power that you need to take any size trailer off-roading with its 6,800-pound towing capacity.
The Tacoma is made for off-roading with special features designed to make your driving experience the best it can be. This model has available features like the multi-terrain select and crawl control. The multi-terrain select has five modes to choose from that help regulate wheelspin by adjusting the engine throttle and traction control.
The advanced crawl control system modulates the throttle and brakes on five low speeds to help you get out of tight spots and enables you to climb over rocks and hard ground with ease. You can crawl your way out of rocky areas and sand dips so you don't get stuck spinning your wheels without getting anywhere.
Read more about towing and Oliver with a Tacoma on our Owner Forums.
Tundra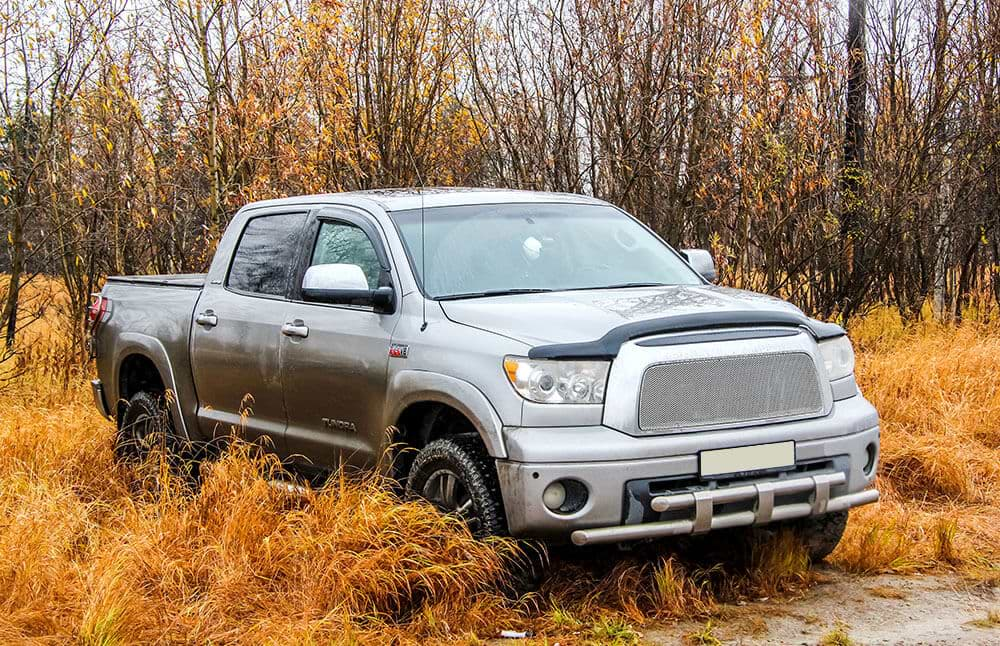 This full-size Toyota truck is built for power with its 5.7L V8 engine that delivers 381 horsepower and 401 pound-feet of torque. This option is great for use on a job site, or weekend traveling with its available 10,200-pound towing capacity and 38-gallon fuel tank. The Tundra also comes with a deck rail system that has four adjustable tie-down cleats to help secure all of your cargo.
The Tundra features a heavy-duty TripleTech frame with an integrated tow hitch receiver. It also comes with a trailer hitch with 12-inch bolts that go directly into the frame for added support and security. The staggered outboard-mounted shocks keep your ride smooth even on rough terrains so you can feel comfortable taking this Toyota anywhere.
This model also comes with a tow/haul mode that is made to hold gears longer so that the truck won't shift the right gear when towing. The tow/haul system also increases the throttle response and engine braking so you can feel more secure when towing large trailers on long drives.
Land Cruiser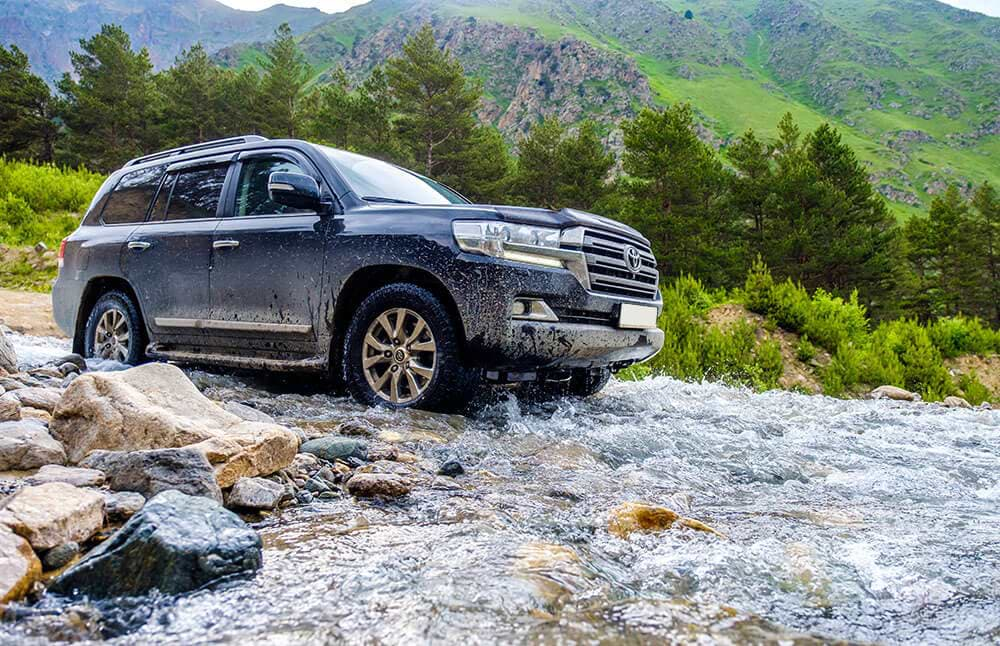 This Toyota model is made for power with its 5.7L V8 engine which delivers 381 horsepower and 401 pound-feet of torque. It is also equipped with innovative technologies like the dual independent variable valve timing with intelligence and an acoustic control induction system that helps to maximize usable power even more.
The Land Cruiser comes with an independent double-wishbone suspension with coil springs and stabilizer bar up front and a 4-link rear suspension with coil springs and semi-floating axle in the rear. This suspension system allows for a smoother ride, even when towing heavy-duty loads, and is built to be long-lasting so that you don't have to worry about replacing it anytime soon.
This Toyota model also comes with skid plates in its undercarriage to help protect important areas like the front suspension, radiator, fuel tank, and transfer case. These skid plates help keep the underside of the Land Cruiser safe from rocks hitting the fuel tank, or from items that have fallen in the road from messing up the front suspension. This keeps your car in better condition and lasting longer.
Sequoia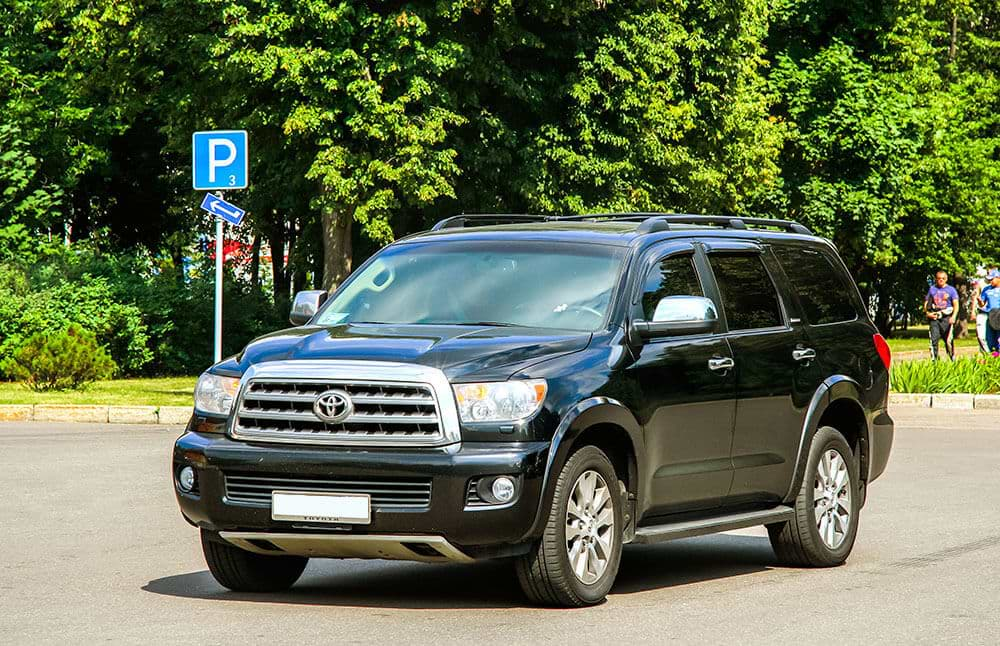 If you are looking for an SUV that can handle towing your travel trailer when on the road with your family, then the Toyota Sequoia may be the perfect fit for you. This family-sized SUV has a 5.7L V8 engine that delivers 381 horsepower and 401 pound-feet of torque. This model also has a towing capacity of up to 7,400 pounds so that you can tow whatever trailer size that you need for your family.
The Sequoia comes with TRD-tuned FOX shocks that are specially designed for off-roading. The front has 2.5-inch internal bypass shocks that have seven compression zones and two rebound zones, and the rear has a 2.0-inch rear shock setup. These shocks are built for off-roading capabilities and can handle the strain that difficult terrain puts on them. This keeps your driving experience smooth even in tough areas.
This model also comes with TRD alloy wheels that are made from black, forged aluminum BBS that are 18 inches in diameter and wrapped in all-terrain rubber that gives the Sequoia a tough exterior look. The wheels also have reduced unsprung mass that improves cornering responses and enhances the overall ride quality of the vehicle on or off the road.
Conclusion
Toyota's name is known for great vehicle options that are long-lasting, but they are now building a reputation of having some of the strongest, and most powerful options when it comes to heavy-duty towing.
With high towing capacities, great suspension systems, and innovative technological features, these models will be able to handle towing any travel trailer for your next trip.
Whether you decide to get the family size Toyota Sequoia SUV to fit the entire family in one vehicle for vacation, or you want a Toyota Tundra that can take you from the worksite to a weekend trip, you can find an option that works for you with a new Toyota truck or SUV.