USFS / BLM / USCOE and some differences therein
Boondocking in these areas is a very cool thing that allows us to enjoy Mother nature's splendor in a up close and personal way. However, each of those agencies have a set of specific requirements that cover the whole spectrum of activities during your stay. Many of the core values for those agency's are the same, but, and now, that is a big BUT, each of the various Ranger districts can be ran as a small kingdom all unto itself, with the ability to adjust the regulations to suit the needs of that particular area.
LENGTH OF STAY has a direct impact upon the area and may be regulated individually, but the general rule of thumb is fourteen days then you must move on out. How many additional days that you may stay for the remainder of the year can and often times does vary widely.
ELEVATION will often dictate your style of camping because of wide temperature changes from season to season coupled with whether the area is arid, moist or maybe even in monsoon season.
Each agency is good to post the individual area's rules and regulations, so it is a good idea to spend a few minutes to pause and read how that may affect your visit. A quick check in with other campers in your chosen area will get you up to speed on particulars about distances for dispersed camping and surface discharge of grey water and it's various acceptable or non-acceptable, local methods.
Each district office is a great source for maps, brochures and information about cool features in that area. Sometimes the USFS and BLM share offices in a given area.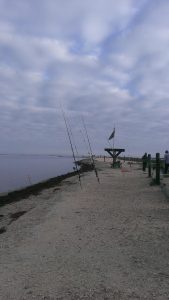 USCOE lakes are almost all power generating and flood control lakes that have built up campsites, some with full hookups and some with partial hookups. In the heartland the USCOE many times, has primitive campgrounds with bare bones amenities such as picnic table fire ring and lantern pole, that are in remote locations and there is no charge to stay there. They are usually not advertised and campers depend upon word of mouth to learn of them.
USCOE LAKE LEVELS CAN VARY WIDELY, choose your campsite wisely, after observing the high water marks left behind by previous high lake water levels.
USFS and BLM lease land for livestock grazing in many western states and livestock can come to visit on occasion. Sheep in these areas are normally accompanied by a sheep herder and his camp wagon. Cattle normally free range and are checked upon by a stockman that is in a pickup with a horse trailer. Both of these stockmen are great sources of local information and because of the solitary nature of their job, will usually chat freely, giving you a perfect source of cool local stuff to see and visit.
COYOTE'S, all of the various agency's campgrounds seem to have a chronic Coyote problem. They are seldom seen and only occasionally heard, but they are there. An unattended pet is at jeopardy and coyotes are serious predators.
Though we have covered a lot of ground, we have barely scratched the surface so far as USFS, BLM & USCOE boondocking is concerned. Our time spent boondocking with them is our most fun, memorable and continuous learning adventure that we enjoy. Safe travels and happy boondocking!