Fresh water / Black water handling techniques
Use of gravity to transfer fluids under boondocking conditions is not practical in many campsites. A couple of transfer pumps can make moving fresh water and black water simple. However those pumps need power and we solve that issue by using a battery jump start power pack on our twelve volt pumps. We clip the color coded power cables to the pump's negative and positive wires and turn the pump on and off with the power pack's front panel switch.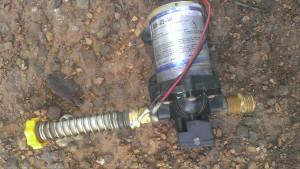 Our FRESH WATER PUMP is a salvaged pump that had started leaking in the pressure cut off switch's diaphragm. Instead of throwing it away we converted it into our transfer pump using twelve dollars of hardware store brass fittings, a bit of Teflon tape and our fresh water pump is ready for action. Using water hose fittings we connect our transfer pump and white hose to our trailer mounted tank to put water into our camping trailer. Our transport barrel, complete with brass hose bib to hook up to, cost $40, At a local farm and supply, making it the least expensive of the two pumps.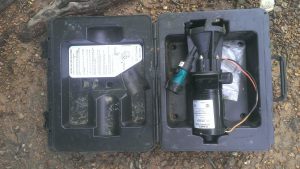 Our BLACK WATER pump is a MACERATOR that we bought new off of EbAY. It and a "roll up flat" 5/8" hose designated for black water only, cost in the neighborhood of $200. Using the macerator pump we can pump black water up hill for short distances. Once again using the power pack and it's switch for a power source. We chose a macerator that came in a plastic hard case for weight and storage considerations and the reel up, lay flat hose for the same reasons.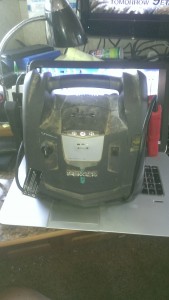 Our BATTERY JUMPSTART PACK was purchased at a discount tool supply for about $60. We have hauled it many thousands of miles while constantly charging and discharging it under rigorous conditions. A quick word of advice about the power pack. It can have a small inverter and an air compressor built into it as well as a work/safety light and a 12 volt power outlet. This is a place where we felt it well advised to spend a little extra to get one with all of the features that we thought we might need.
We even use this battery pack to power up our twelve volt impact wrench that we use during a flat tire change.