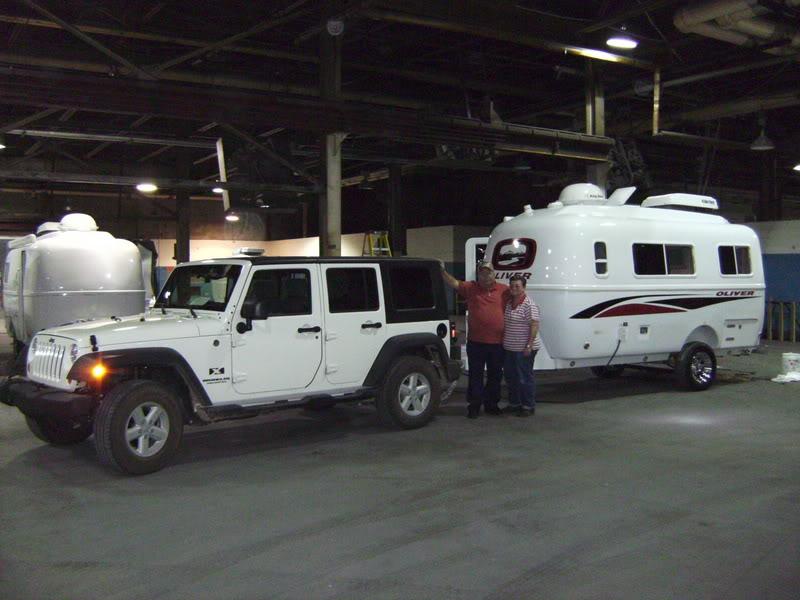 Although we were totally excited about our delivery of the new Oliver Legacy Elite. Even though we were knee deep into the item by item check list. Even though various plant workers were hooking it up to our Jeep's hitch, making sure that the driving lights were correctly operational before pulling out. Even in the midst of all that hustle and bustle, it was hard not to notice the commanding presence of a distinguished gentleman that had quietly arrived from another part of the plant.
It was clear that he was standing a bit apart so that he could observe without interfering with the delivery process. With the tan of an outdoorsman, the hiking boots and jeans, topped off with a plaid shirt jacket, it might be pretty easy to assume that he was a plant worker. Yet as the plant crew noted his presence, their subtle shift in demeanor told me that he was the owner of Oliver Travel Trailers.
From time to time his hands would seek his blue jean pockets and he would seem to be deep in thought. Obviously it was a very private moment for him and was a powerful emotional experience.
Though he didn't say anything, it was clear that he was taking in every detail, as he savored the proceedings. It was a milestone event. After a bit I asked the sales manager who it was and he introduced me.
A firm handshake from a hand that stayed busy doing real world things, backed up by a greatly infectious smile, and I had met Jim Oliver. Now I knew why he had been quietly and reverently observing the first delivery, he and his twin brother John had spent many hours dreaming about this day.
Though it was quite an emotional occasion, Jim spent time talking with us about the path to this day with his brother John. Yep, that's just the kind of guy that he is.
You might note that this first Oliver has great ground clearance that matches the Jeep's. It didn't start off that way, and that is a whole different story, one that points out Oliver's unique capacity to listen to the needs of their customers.