12 Safety Tips for Pulling a Trailer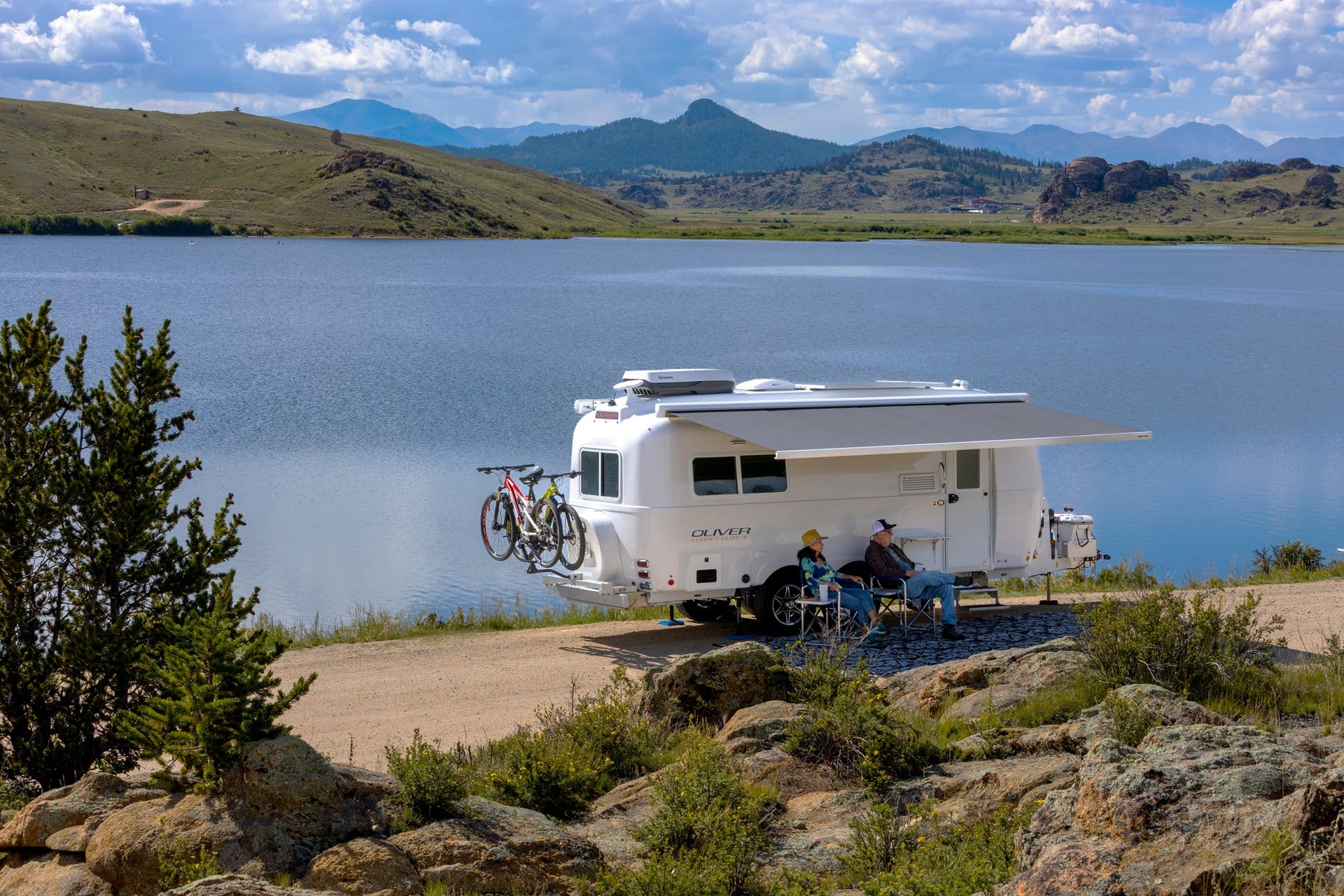 When you're towing a trailer or RV, safety is the number one priority. After all, you don't want an accident to occur that could potentially injure yourself or others. That's why it's important to be aware of the safety tips and precautions that need to be taken when pulling a trailer or RV. In this blog post, we'll talk about the specific things you need to look out for when towing a trailer or RV. We'll also highlight the safety features offered by Oliver Travel Trailers. Let's get started!
The first tip is to check the tires on your RV or your travel trailer and make sure that they are properly inflated. This is important because if your tires are not properly inflated, it could cause an accident. It's also important to check the tire pressure on a regular basis, just to be safe.
Make sure any maintenance to the vehicle you're towing or to the trailer itself is done on time, every time. Things to check are the oil level, filters, brake pads, coolant and fluids, and plenty of other things. If something isn't working properly, it could cause an accident. As Trailer Safety Week recommends "Regular trailer maintenance is critical to ensuring the longevity of your trailer, as well as making sure you are able to tow to your destination safely. Before towing, make sure your trailer and its many components are in safe working order. Worn or broken trailer parts can cause loss of control and injury may result. You must inspect, maintain and service your trailer regularly to ensure safe and reliable operation."
Another safety tip when towing a trailer or RV is to make sure that you pack the weight in the trailer correctly. 60% of the trailer's load should be placed over the front half of the trailer and you want to make sure not to overload the trailer so that the vehicle that is towing could potentially overcorrect. You need to make sure that the trailer is not overloaded and that the weight is balanced correctly.
It's also important to stay within your limits as a driver. If you're not comfortable driving in certain conditions, then don't do it. For example, if you're not comfortable driving in the rain, then don't tow a trailer or RV in the rain. Only do something that you feel safe doing especially when it's more than just your own life at risk, others with you, and even more so, other drivers on the road.
Checking your lights on the front and rear of the trailer and your vehicle is important too. You want to make sure that the brake lights are working as well as the turn signals. This is important so that other drivers are aware of what you're doing and can react accordingly.
You need to make sure that you're checking your breaks and having them inspected by a professional regularly. This includes any braking system you have on the trailers themselves, not just the vehicle. This is important because if your breaks fail, it could cause an accident.
Checking the hitch and ball that you're using to tow the trailer or RV is important as well. You want to make sure that they are properly secured and tightened so that there's no chance of them coming loose while you're driving. Incorrectly sized ball hitches for towing are the #1 cause of most trailer/RV accidents. Make sure you work with your dealer or rep to make sure you have the correct size and towing capacity.
Safety chains connecting the trailer to your vehicle are also very important. You want to make sure that they are properly secured and of the correct size. This is important because if the trailer were to come loose from your vehicle, the safety chains would prevent it from hitting another car or causing an accident.
Having proper towing mirrors is also a must. You need to be able to see behind you when you're driving and having the proper towing mirrors will allow you to do that. Most accidents happen because people cannot see what's going on behind them when they're driving. This makes sure to help lessen your blind spots and allow you to see more than you normally would with the vehicle installed setup.
You need to make sure you bring along wheel chocks. These help keep the vehicle/trailer/RV in place when it is officially parked. This is important because if the trailer were to move while you're not in it, it could cause an accident. This allows
If you need to pull off the side of the road, make sure you're not there for long. It's also a safety hazard and can cause an accident on its own. If you're going to be stopping for an extended period of time, it's best to find a safe place to park off the side of the road.
Last but not least, always have a plan B. This is important because even if you think you've done everything right, sometimes things happen that are out of your control. If something does happen, it's important to have a backup plan so that you can safely get to your destination.
These are just some safety tips to keep in mind when pulling a trailer or RV. Following these tips will help keep you safe while pulling a trailer or RV. You can count of quality and luxury with our Legacy lineup. The Oliver Legacy Elite is one of our popular towable small travel trailers. The single axle camper measures 18′ 5″ in length, with a double-hulled fiberglass shell making it all four seasons ready. The Legacy Elite is available in the standard floor plan with a 74″ x 52″ bed and a full bathroom that includes a toilet, vanity, and shower.
Olivers come standard with tons of features, your choice of options to personalize your Ollie and if you want to go further, take a look at our optional upgrades & add-ons to for an even greater experience while camping.
Double Hulled Fiberglass Shell
Precision Crafted Interior Molded Fiberglass
Monitoring System for Water Tanks and Batteries
Bathroom with Molded Vanity and Toilet
10′ Retractable Awning
Dining Table and Side Dinette
For more information on safe towing practices, be sure to check out Oliver Travel Trailers' website or give us a call today! We would be more than happy to help ensure that you have a safe and enjoyable trip with your Oliver Travel Trailer.