Camping excursions and visits to relations should be done in comfort. Oliver travel Trailers serve people to meet their most common, essential needs when they leave the comfort of their homes. When comparing travel trailer brands, see the comparison of the competition. Descriptions of competing travel trailers have been provided.
Airstream
Airstream is a brand of luxury RVs manufactured in Ohio. Initiated in 1931, Airstream created lightweight travel trailers that would attach to a vehicle. Known for their curvy aluminum exterior that covers their trailers, while bunks, dinettes, and built-in storage units fill the interior. The Airstream travel trailers come in a wide variety of sizes, compact to roomy, but the polished surfaces and windows are the same throughout all the styles.
Escape Travel Trailers
Targeted toward small to midsized tow vehicles, the company Escape aims for fuel efficiency with its escape travel trailers. The trailers, created in British Columbia, Canada, have a 100 percent fiberglass exterior. The interior includes seating, which converts to sleeping areas, overhead cabinets, vinyl wall coverings, and bathrooms with showers. To promote their product, the company offers a full two-year warranty on their Escape travel trailers.
Bigfoot Travel Trailers
The fiberglass exterior is traditional, but the thermal pane windows and high density insulation in Bigfoot travel trailers promise warmth and good times. Porcelain toilets, comfortable mattresses, day and night shades, and skylights fill the interiors of the Bigfoot travel trailers. To ensure happiness for every customer, Bigfoot guarantees dual propane tanks, heated and enclosed water tanks, and black tank rinse. The company also offers air conditioning, exterior speakers, and LCD TV.
Casita Travel Trailers
Established in 1983, Casita Enterprises has constructed lightweight travel trailers for over two decades. Perfect for singles or couples, Casita travel trailers come in a variety of sizes and styles, from a compact 13 footer to a deluxe 17 footer. Depending on the model, the interiors of Casita travel trailers include twin beds, king-sized beds, kitchenettes with seating and dining areas, bathrooms with baths, and cross ventilation and natural lighting with picture windows.
The Oliver Travel Trailers Difference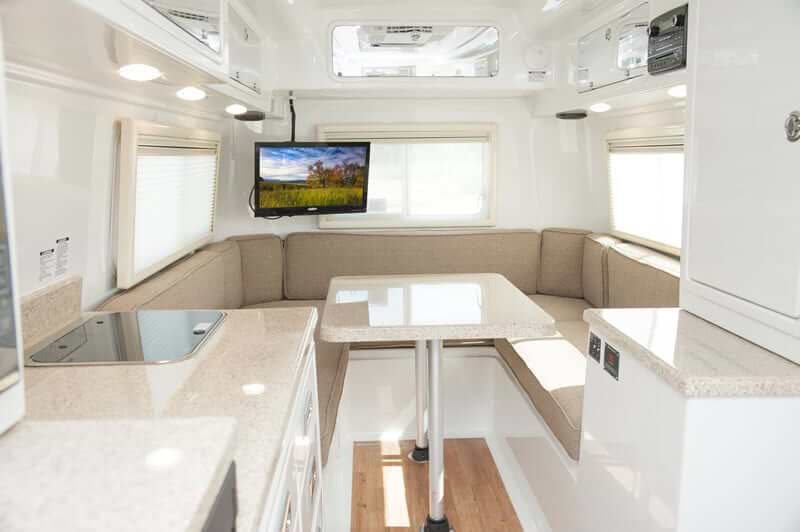 The above mentioned travel trailers may prove temporarily comfortable, but Oliver travel trailers go above and beyond the standard in the industry in standard amenities, available options and overall quality.
Their Legacy Elite II travel trailer provides a five person dining area which could convert into a king-sized bed, double-hulled insulated shell and thermal pane windows help to maximize energy during hot and cold seasons, and a LCD TV and Furrion stereo system to provide entertainment. Year-round living is possible with the all composite exterior shell and double fiberglass hull. Most importantly, valuables can be held and transported in the superior storage capacity. Owners find the Oliver is easy to set-up with the 3-way Power Leveling System. The construction design that includes the aluminum frame, tandem Dexter axles with "Nev-R-Adjust" power brakes and aerodynamic fiberglass shape gives the Oliver a superior tow on the open road while getting improved gas mileage compared to some other comparable models. Oliver sets the bar on standard features. Many amenities that available only as options on the competition come as standard features in "Ollies."
Pros and cons exist for all travel trailers listed. Some may save more fuel, some may provide better comfort, and some may hold more visual appeal, but the perfect combination of all traveling needs exist in the Oliver travel trailers. They provide space, storage, cooking areas, sleeping areas, seating, bathrooms, and entertainment. Constructed to maintain the owner's desired temperature, the travel trailer can travel during sunshine or rainstorm. Travelers must make their own decision when purchasing a travel trailer, but the trailers from Oliver are worth consideration.