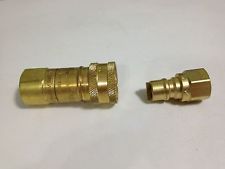 When building your Oliver, as you work on your build sheet, you may decide to add a propane QUICK CONNECT to facilitate use of various propane appliances such as a BarBeQue grill or Little Red campfire in a can.
In the photo above the female fitting on the left is where your appliance will be plugged into. This port is often times mounted to the trailer tongue on the curb side of the trailer. A lever valve is just behind the female port as a emergency shut off.
The part on the right, in the photo above, will go on your appliance hose to attach it to the quick connect.
So, you are ready to hook that grille up to propane for the first time, here is something to look for during your project.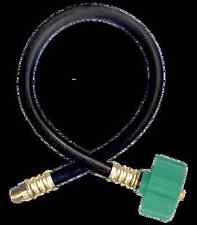 If your appliance has a hose with this connector on it then it is designed to hook up directly to a tank like the those under the cover on your trailer's tongue. This is a high pressure connector and your appliance has a regulator to drop it down down to a useable value.
Now if you replace this hose with one that has the male quick connect half on it and leave the appliance's regulator in place, your appliance will not work like it should because there will be one regulator behind another, dropping the pressure well below a useable value.
Should you need to use the appliance before you replace it's hose, regulator and add the male fitting, you can hook your high pressure connector direct to your other propane tank that is on the tongue.
I think that the easy solution to resolve all of the "what if's", might be to have your appliance with you when you pick up your new Oliver and ask the factory technicians if it is ready to plug in to the quick connect and use.
Those factory guys are always ever so helpful and ready to help!