Discover the Ultimate Travel Trailer Vacation Homes on Wheels
Our commitment to excellence drives us to utilize the finest materials, exclusively sourced, and to manufacture everything locally in the USA. With our advanced engineering, our double-shelled fiberglass and composite hull designs are crafted to withstand the test of time, ensuring a lifetime of durability. Our Legacy Elite and Legacy Elite II models are thoughtfully equipped with distinctive design elements and luxurious amenities, ensuring they are the ideal choice for discerning travelers. Join us as we delve into the unique features of each of our RV trailers, demonstrating why we are unrivaled in the travel trailer industry in the United States.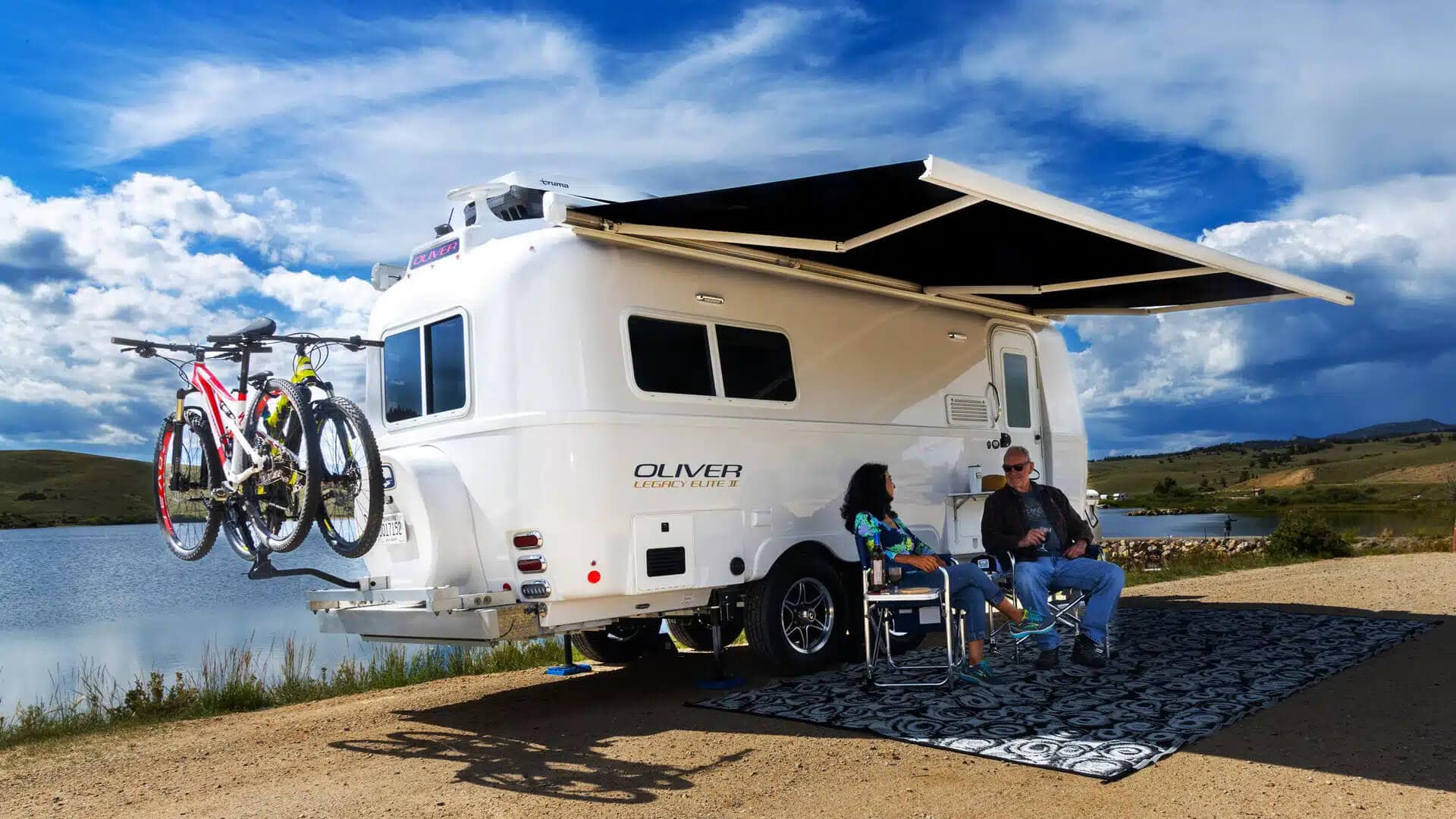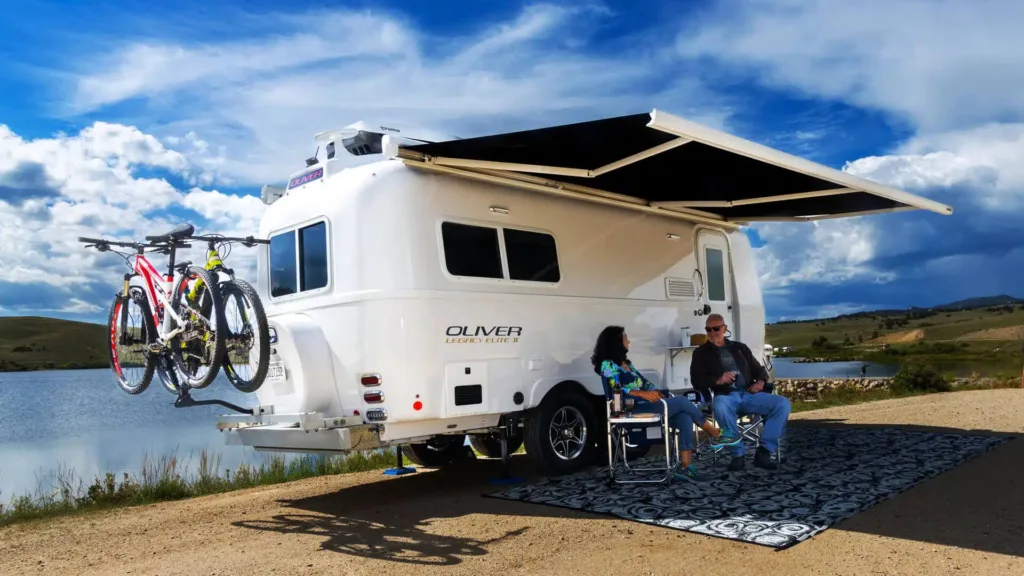 What makes Oliver the best on the market?
At Oliver Travel Trailers, we pride ourselves on being a direct-to-you company, offering a unique advantage you won't find elsewhere. Unlike traditional dealerships, you won't find our trailers on their lots. Instead, you come directly to us, allowing us to pass you the savings and unmatched quality.
There are numerous reasons why Oliver camper stand out as the best in the market. Since our inception in 2007, the Oliver family has tirelessly strived to create the finest, superior-quality camper trailers. We have achieved this by engineering our double-shelled fiberglass and composite hull to endure a lifetime of adventures.
Our meticulous design and specifications result in unparalleled insulation, durability, strength, and ease of maintenance. Oliver trailers are built to withstand the test of time, surpassing expectations and earning the Legacy Elite title. Through our commitment to employing only the highest quality materials, an Oliver becomes more than just an RV; it becomes an heirloom capable of being passed down to future generations.
When you search for the perfect trailer, you'll quickly realize that Oliver is unique. We meticulously select and utilize only the finest materials for every aspect of our campers. This ensures that your investment will provide you many years of enjoyment and lasting memories. Furthermore, our trailers are proudly manufactured here in the USA by skilled craftsmen and women. This unwavering attention to detail guarantees that each Oliver is constructed to surpass expectations and endure the test of time.
One of the key distinguishing features of Oliver is our unique double-shelled fiberglass and composite hull. This innovative design sets our trailers apart, offering unprecedented durability and longevity. Additionally, this hull provides superior insulation, shielding you from extreme temperatures and allowing you to enjoy your trailer in any climate, regardless of the season.
Oliver, or affectionately referred to as Ollies by their owners, possess five distinct qualities that set them apart from the rest.
High-Quality Double-Hulled Fiberglass Shell with a 5-Year Limited Warranty
Experience exceptional insulation with Oliver's hull, featuring radiant barrier bubble insulation. Enclosed between the durable fiberglass shells are tanks, plumbing, ducts, and mechanical systems. This innovative design allows Oliver to provide an impressive 5-year limited warranty on the fiberglass shell – a rarity in the RV industry. Read more on our frequently asked questions page.
Expertly Designed For Easy Towing
Experience effortless towing with our exceptional custom-built chassis. This sturdy chassis boasts an aluminum frame and steps and a 5-year limited warranty for added peace of mind. The galvanized-dipped steel sub-assembly features zinc anodes, offering superior protection against corrosion. Enjoy the smooth ride of premium aluminum wheels on 10-ply E-rated tires, complete with a full-size spare featuring an aluminum rim. Our Elite II models feature Dexter Nev-R-Lube axles and a Dexter EZ-Flex rubber equalization system, ensuring optimal performance. Additionally, leaf springs and gas shocks contribute to enhanced stability and comfort.
Loaded with Standard Features: Uncover the All-Inclusive Base Models
Our top-of-the-line features include:
A Dometic air conditioning system.
A furnace for optimal comfort.
An awning for outdoor enjoyment.
Enjoy the convenience of three powered stabilization jacks for easy setup and stability. Our well-equipped kitchen boasts a stainless steel microwave, a flush mount dual burner LP stove, and a 2-way fridge for all your culinary needs. Stay entertained with our premium entertainment system. And that's just the beginning – we have even more impressive features awaiting you.
Personalize Your Ollie: Unleash Your Unique Style
Personalize your Ollie with our extensive selection of Decor Packages and Graphics Options. Choose from various leathers, flooring options, fabrics, upholstery, and more to create a trailer that perfectly suits your style and preferences. Hit the road in a customized Ollie and embark on unforgettable adventures tailored to your unique taste and enjoyment.
Endless Upgrades and Add-Ons: Elevate Your Ollie to New Heights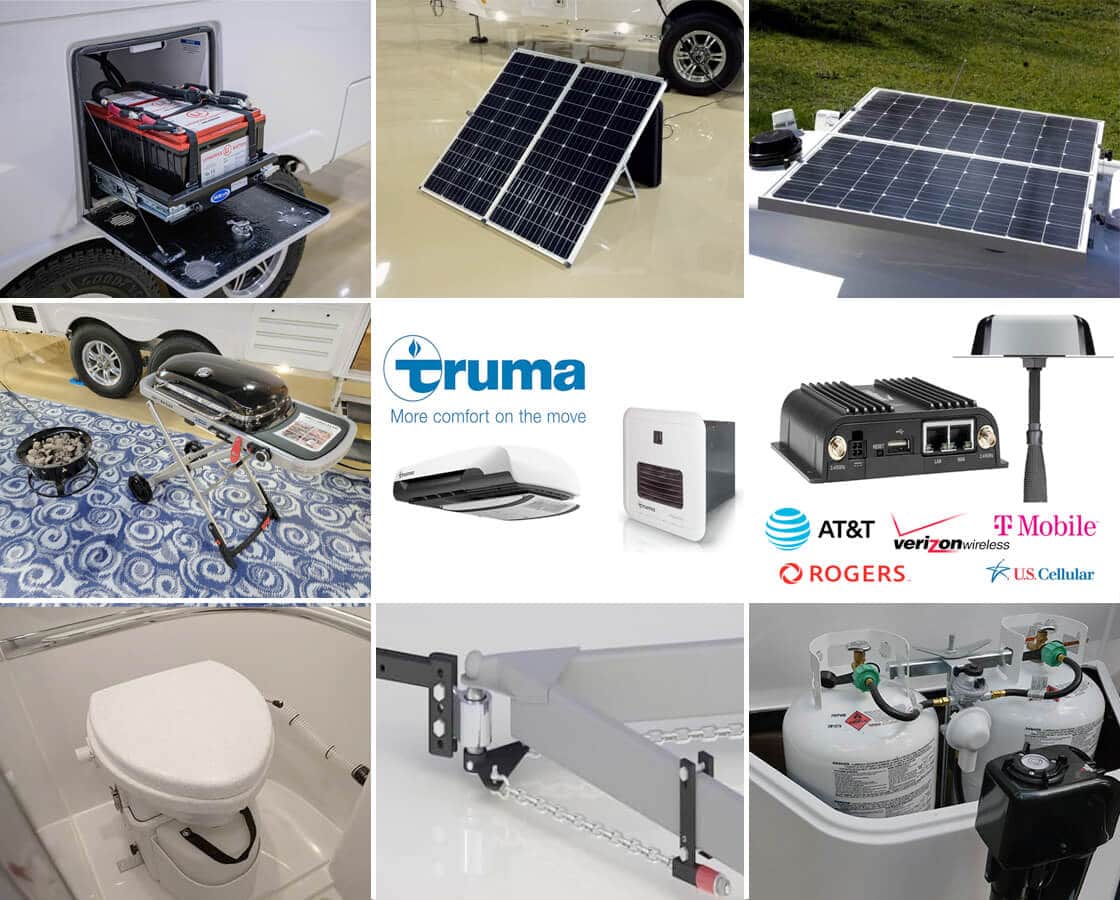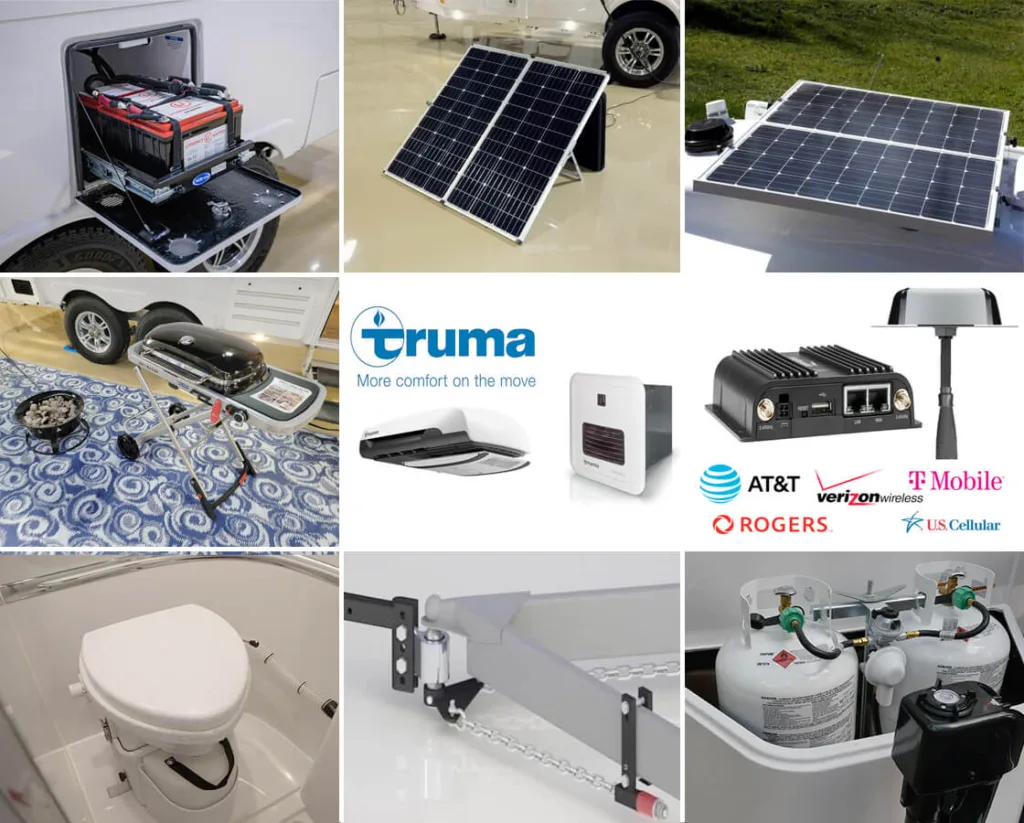 Our impressive selection of features includes Lithium and AGM Battery Power Packages, complete with Solar and Inverters for reliable off-grid power. Enjoy the convenience of a Truma On-Demand Water Heater for instant hot water. Say goodbye to traditional plumbing systems with our innovative Composting Toilet. Experience convenience and comfort with a Powered Awning and an Anti-Sway Weight Distribution Hitch for a smooth and safe towing experience. And that's just the beginning – we offer even more remarkable features.
Legacy Elite Models: Unleashing Luxury and Performance
Discover the versatility of our two models, designed to be made to order. Whether you prefer our 18-foot Elite I or the 23-foot Elite II camper model, you can tailor it to your specifications and preferences. Experience the joy of owning an RV that is uniquely yours, designed to cater to your needs and desires.
Introducing the Legacy Elite 18′ 5: Your Perfect Compact and Towable Travel Companion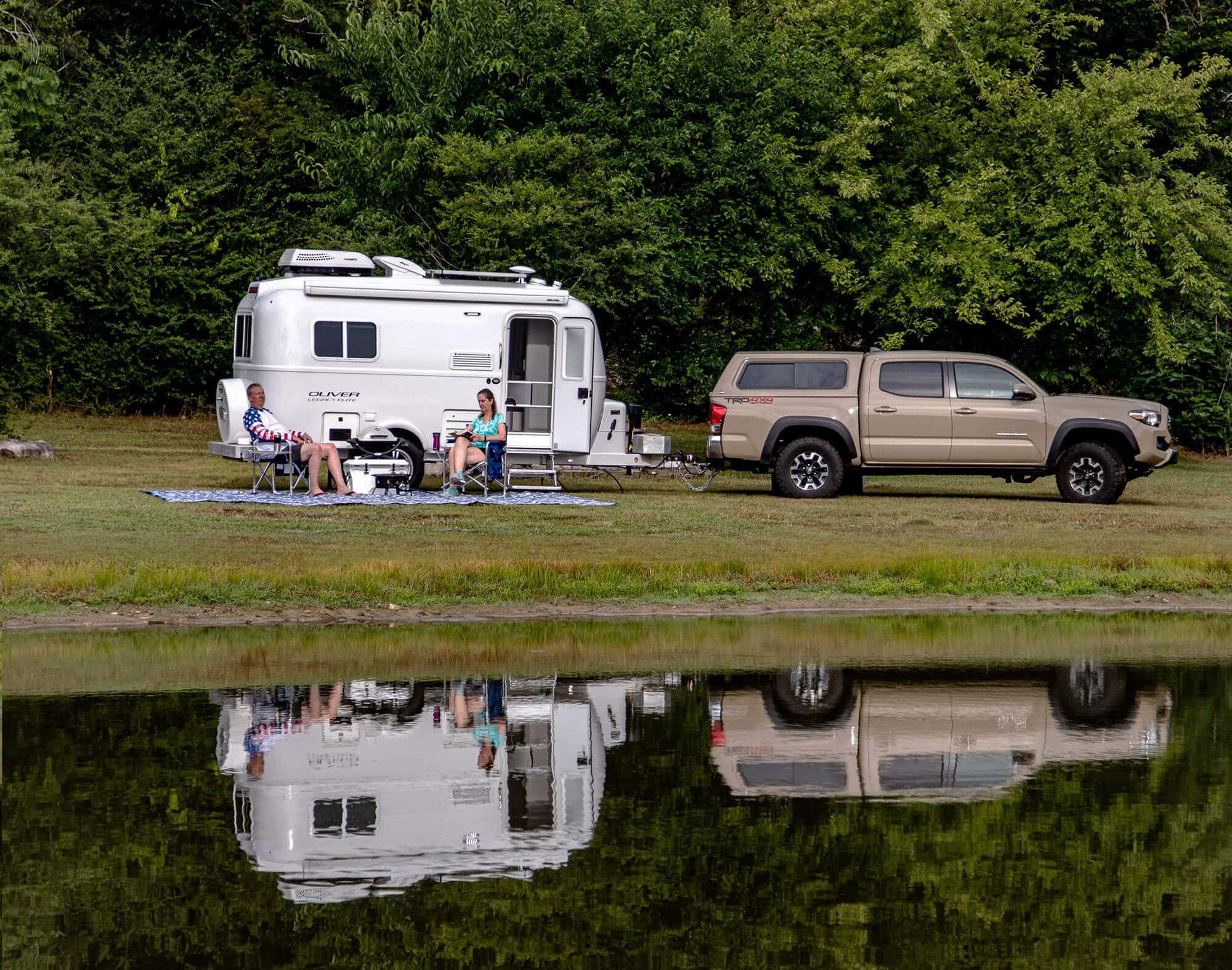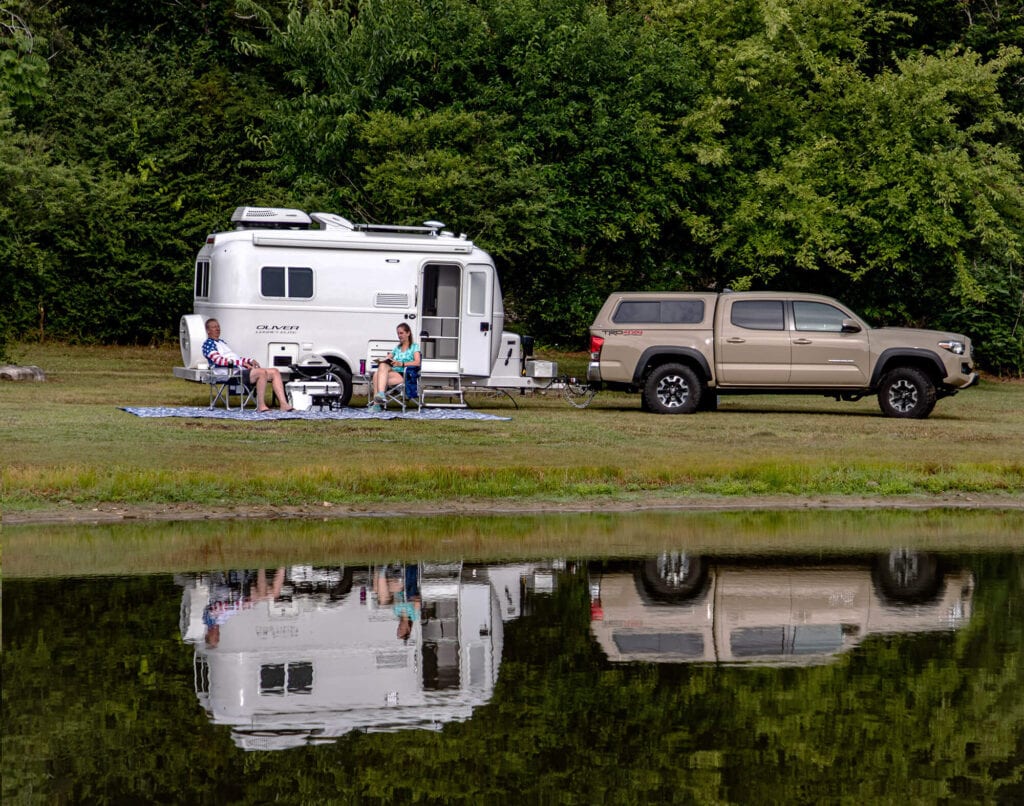 The Oliver Legacy Elite is a single-axle small camper measuring 18′ 5 in length. It features a double-hulled fiberglass shell that suits all four seasons. This camper is designed for your comfort and convenience. The Legacy Elite offers a standard floor plan with a 74 x 52 bed and a full bathroom with a toilet, vanity, and shower. Enjoy the following standard features:
Double Hulled Fiberglass Shell for Durability
Precision Crafted Interior Molded Fiberglass
Monitoring System for Water Tanks and Batteries
Bathroom with Molded Vanity and Toilet
10′ Retractable Awning for Outdoor Shade
Dining Table and Side Dinette for Mealtime Comfort
At Oliver, we pride ourselves on providing a range of standard features to enhance your camping experience. Moreover, you have the flexibility to personalize your Ollie with various options. For an even greater camping experience, explore our optional upgrades and add-ons. Choose Oliver to elevate your camping adventures with exceptional features and personalized choices.
Discover the Legacy Elite II 23′ 6: Unleash Unmatched Popularity and Unrivaled Travel Experience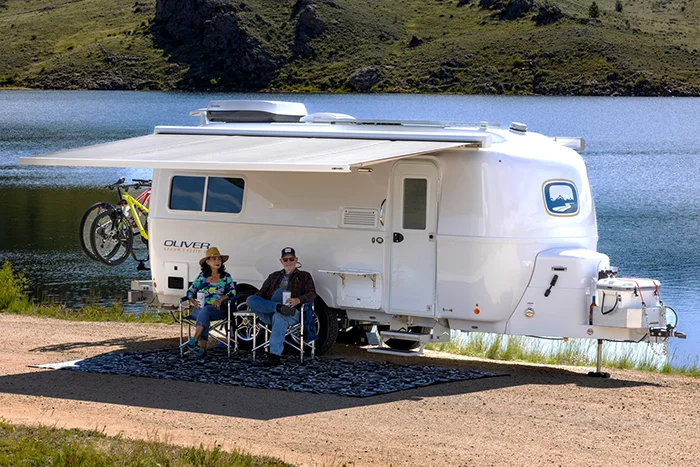 Discover the perfect companion for your outdoor adventures with our top-of-the-line tandem axle travel trailer. Measuring at an impressive 23′ 6 in length, our trailer boasts a sturdy double-hulled fiberglass shell that ensures year-round usability.
The Oliver Legacy Elite II, weighing just 4,900 pounds when dry, offers a spacious and luxurious interior, providing ample room for you and your family to relax and enjoy your time on the road. Moreover, we offer two distinct floor plan options – standard or twin bed – allowing you to personalize your trailer to suit your needs.
Both floor plans feature a well-appointed full bathroom with a toilet, sink, and shower, ensuring maximum convenience and comfort during travel.
Our tandem axle travel trailer comes equipped with a range of impressive features, including a durable double-hulled fiberglass shell, a precision-crafted interior molded fiberglass, quad shocks on dual Dexter leaf springs for enhanced stability, and a monitoring system for water tanks and batteries.
Our camper trailer also includes a 16′ retractable awning, providing shade and protection from the elements, and a dining table and side dinette for comfortable meals and socializing.
The Value of American-Made
We take pride in our commitment to American craftsmanship at Oliver Travel Trailers. Our trailers are meticulously constructed using the highest quality materials sourced in America. With our innovative double-shelled fiberglass and composite hull, we have engineered a product designed to withstand the test of time. Rest assured, as you embark on your adventures, you can have complete peace of mind knowing that your Oliver is built to last a lifetime.
If you seek premium quality in a travel trailer, your search ends with Oliver. As the leading manufacturer of superior fiberglass travel trailers, we are dedicated to providing unparalleled accommodations for discerning travelers. Experience the pinnacle of mobile luxury by choosing Oliver.