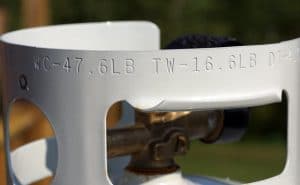 Propane is a very important part of our Winter camping experience, so we make sure that we are carrying enough along with us for the trips' duration. Now, you might say, "just how do you measure that?" Actually, it isn't all that complicated. It is all about weight and being able to quickly and easily measure it. If you fly commercially and weigh your luggage, you may already have everything that you need to measure your propane. A cool thing is that each propane tank has the empty and the full weight permanently stamped on it. Here is a look.
The number on the left is the full weight and the number on the right is the empty weight. By law, the tank can only be filled to 80% of its volume for safety. Here is how you put that luggage scale, that you use when you fly, to use. Just hook under the handle and lift. Enter the empty weight using the tare button and you have the actual weight of the propane that is in the tank. Here is a look at a popular luggage scale on eBay, listing for around $15.

Your second question might well be, "why go winter camping in the cold weather?". Betty and I would answer to you, "because it is so spectacular!"
The primitive campgrounds that we like are normally empty except for us and it is quiet. The lake is ours! We have it all to ourselves except for a few diehard fishermen and birdwatchers.
Even lying in bed at night can be an exhilarating experience because we don't run our furnace. Instead, we use our Olympian wave 3 catalytic heater that is totally quiet and have a couple of windows open just a bit, and the roof vent cracked a little for safety and can hear everything quite well. Here is a look at the heater.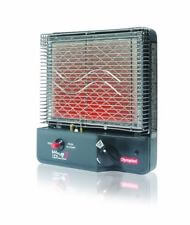 It can be pretty cool to watch a family of raccoon's searching the campsite for something that one of the grandkids may have dropped. Or to be startled awake by a pack of juvenile coyote's unsuccessfully trying to catch a rabbit that got into a hollow tree. Then there are those great "sleeping" sounds, such as the night breeze sighing as it passes through the bare tree limbs, the sound of the lake lapping gently upon the shore or the beautiful call of Loon lilting across the water.
Some of our favorite daytime things to do are cruise slowly in the boat watching wildlife feeding or visit resident Eagle nests. It is ever so nice to have the boat tied up right at our doorstep.
We always check the forecast and adjust our activities for our comfort. Yes! Winter camping in a travel trailer can be great!