A travel trailer can be a great way to enjoy the outdoors, providing an affordable and comfortable experience for campers. When it comes to purchasing a travel trailer, there are two main options: buying new or used. New trailers come with a manufacturer's warranty and may have upgrades and features not available on older models, but they usually cost more. Used trailers may not have all the bells and whistles of a new one, but they can be a more cost-effective option.
There are so many different things to consider, including your budget, the features you need, what options are available, whether a warranty is available, and the trailer's resale value.
Before deciding on whether to purchase new or used, it's important to consider a variety of factors. Here are some tips to help you make the best decision for your situation.
1. Assess Your Budget
It's a good idea to set a budget for your purchase and then consider how much you can realistically afford to spend on a travel trailer. Take into account any additional costs such as taxes, insurance, registration, maintenance and fuel that may be associated with owning a travel trailer.
Once you decide on a budget, you can start shopping. You may find that you can get a bigger trailer for less when you purchase used, but the benefits of a brand new trailer might be worth getting something a little smaller. It all depends on your needs and what you're looking for! Whether you decide to purchase new or used, stick with your budget and wait for the right thing to come along.
2. Consider What Features You Need
Think about what features you need in a travel trailer. Some features may only be available with new models, such as advanced technological features or upgraded interior design features. However, used trailers may have just the basics and can save you money if those features are not important to you.
You should also consider the age of the travel trailer. Newer models may have more updated features and better materials, but an older model can still be in great condition if it has been well maintained. The last thing you want is to purchase a trailer then spend a bunch of money getting it repaired, so if you do decide to get something a little older, keep that in mind when shopping.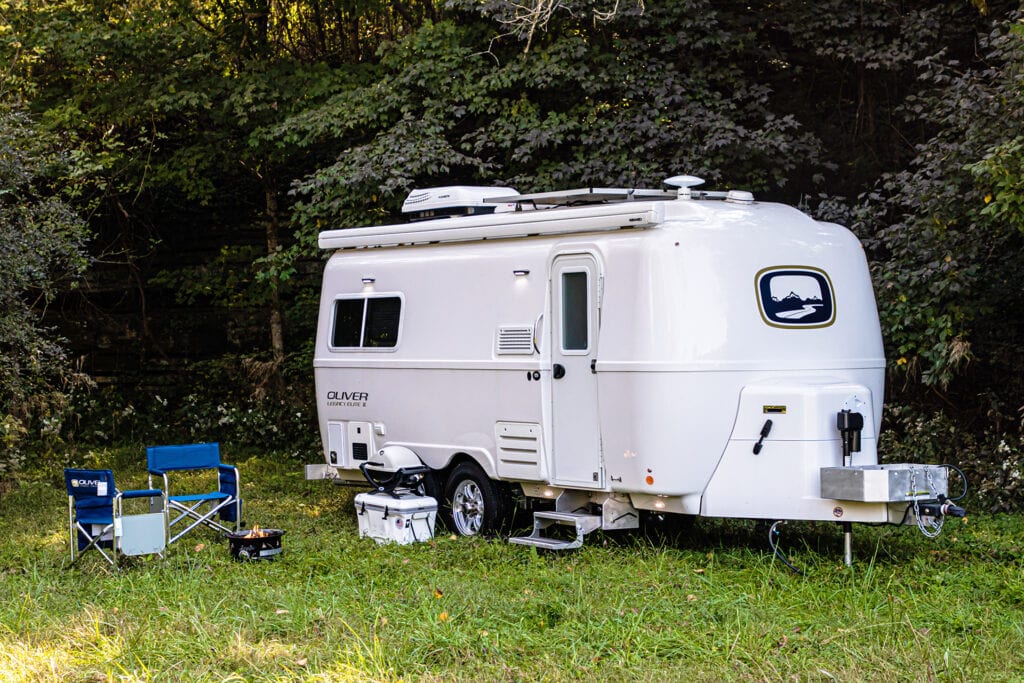 3. Research Your Options
Take some time to research the different models of trailers available and compare prices for new and used models. You may be able to find a used trailer that is in good condition and still has many of the features you need at a much lower cost than buying a new one. If you decide to buy used, research the model from that year. Manufacturers come out with different features each year, so you might find that you like a 2016 model even better than a 2018. Again, it all depends on your needs and budget.
There is so much information out there and it can get overwhelming. If you need some help figuring out what features you do and don't need, a professional at Oliver Travel Trailers can help! We specialize in finding the right trailer to fit each family that comes in.
4. Get an Inspection
If you decide to purchase a used travel trailer, be sure to have it inspected by a professional. An inspection will help ensure that the trailer is in good condition and can provide peace of mind when making such a large purchase.
Inspections can catch the things that are easy to overlook. For example, are all of the hookups installed correctly? Does anything need to be replaced in the near future? And what about the water tanks – are those working properly? If the trailer is stored outside and you live in a cold climate, has it been winterized every year? These are important questions to ask, and an inspection can help you decide if you're making a good, smart purchase.
5. Consider Warranty Coverage
New travel trailers usually come with a manufacturer's warranty, which can provide coverage for any major repairs or damages that may occur during the warranty period. Used trailers often don't come with warranties, so it's important to factor in the potential costs of repairs when making your decision.
On the other hand, warranties are often an additional cost when purchasing the trailer. If you value peace of mind and don't care about paying a little extra for it, that's great. However, if you don't want to purchase a warranty, getting a used travel trailer could be in your best interest.
6. Consider Resale Value
If you think you may want to resell your trailer in the future, it's important to keep resale value in mind. New trailers tend to have higher resale values since they are usually still covered under a manufacturer's warranty and will likely require fewer repairs over time than an older used model.
However, if you treat your travel trailer well and stay up to date with repairs and maintenance, you can still get a good amount out of your trailer if you decide to sell it down the road. This is something to keep in mind when deciding which type of trailer to purchase.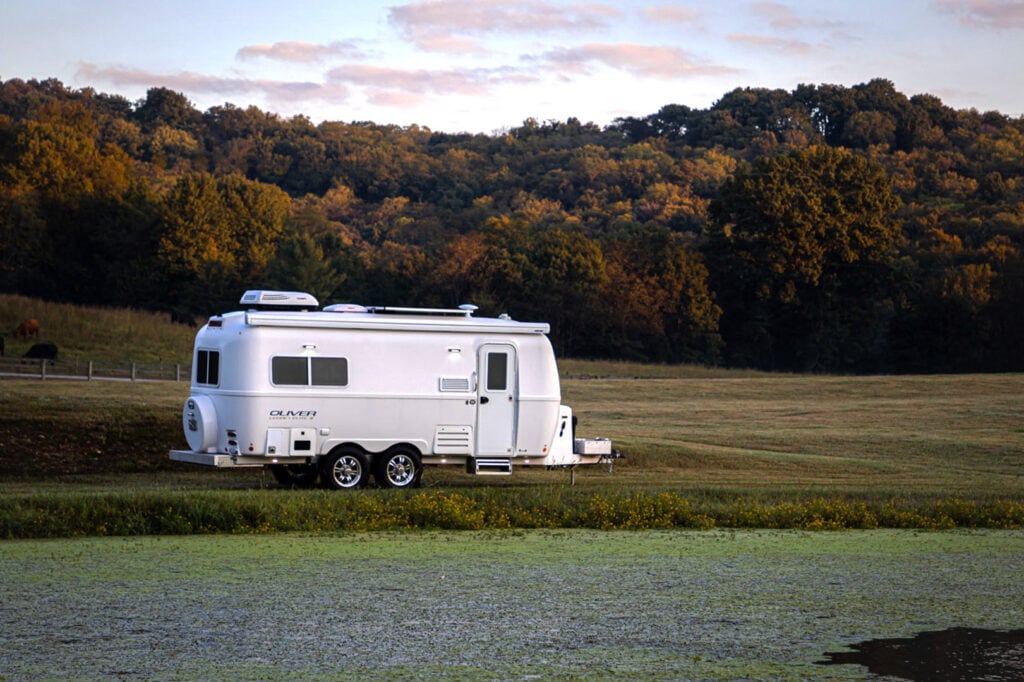 Final Thoughts
Making the decision between buying new or used for your travel trailer will depend on many factors, including your budget, needs, and preferences. Carefully considering each aspect of the purchase can help you find the perfect trailer for your lifestyle and ensure you get the most out of your investment.
If you're still feeling overwhelmed, don't worry – Oliver Travel Trailers is here to help! We specialize in helping campers make informed decisions about their camping experience and will be happy to assist with any questions or concerns you may have. Contact us today and let's find the perfect travel trailer for you and your family.