Luxurious Upgrades to Enhance Your Adventures
When purchasing a travel trailer, there are many factors to consider, including whether or not to invest in luxury upgrades. While your sales associate may try to persuade you with the allure of luxurious amenities showcased in advertisements and brochures, it's essential to determine which upgrades are genuinely worthwhile. Suppose ultimate comfort is your objective while traveling in your trailer. In that case, it may be wise to enhance your trailer to create a homier atmosphere.
One of the significant decisions you'll face when purchasing a travel trailer is whether to opt for a luxurious model or a more affordable one with customizable upgrades. Though elegant models come with a higher upfront cost, they typically boast many features and amenities that can immensely simplify your life on the road.
Alternatively, you can select a lower-end model and personalize it with upgrades. It's essential to compare the pricing for both options and decide based on your financial circumstances and what you believe will be most advantageous for you and your family in the long term.
Outlined below are some of the most sought-after luxury upgrades you'll find in high-end travel trailers:
1. Room to Roam: Larger, More Spacious Floor Plans
Regarding luxury upgrades in travel trailers, one of the most popular options is larger, more spacious floor plans. Upgrading to a larger floor plan can greatly enhance your comfort and overall experience.
These upgrades provide ample room for you and your family to move around and relax comfortably during your travels. With extra square footage, you'll be free to customize your living space, adding additional furniture or amenities to make it feel more like home.
If you frequently travel with a large family or group of friends, Luxury models, in particular, offer more spacious interiors and a wide range of features to make your trip even more enjoyable. Whether you're planning to entertain guests or want more room to stretch out, a larger floor plan can significantly enhance your overall comfort and satisfaction while on the road.
2. Organization Made Easy: Ample Storage Space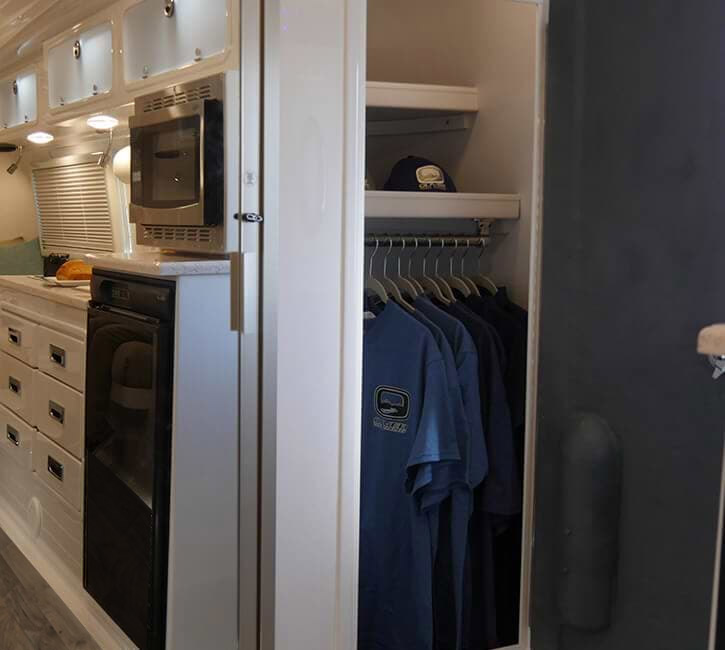 If you're traveling with many people, it's essential to consider the amount of storage space you'll require. Even when traveling with a small group, having sufficient storage space can be a game-changer. Luxury travel trailers often offer more storage options compared to lower-end models, ensuring that you have ample room to safely store all of your belongings. However, it's worth noting that many lower-end models can be customized with additional storage upgrades. Hence, it would help if you inquired about these options with your sales associate. This becomes especially crucial if you're embarking on an extended camping trip or a cross-country road trip where having enough storage space is vital for a smooth and organized journey.
3. Culinary Delights on the Road: High-End Appliances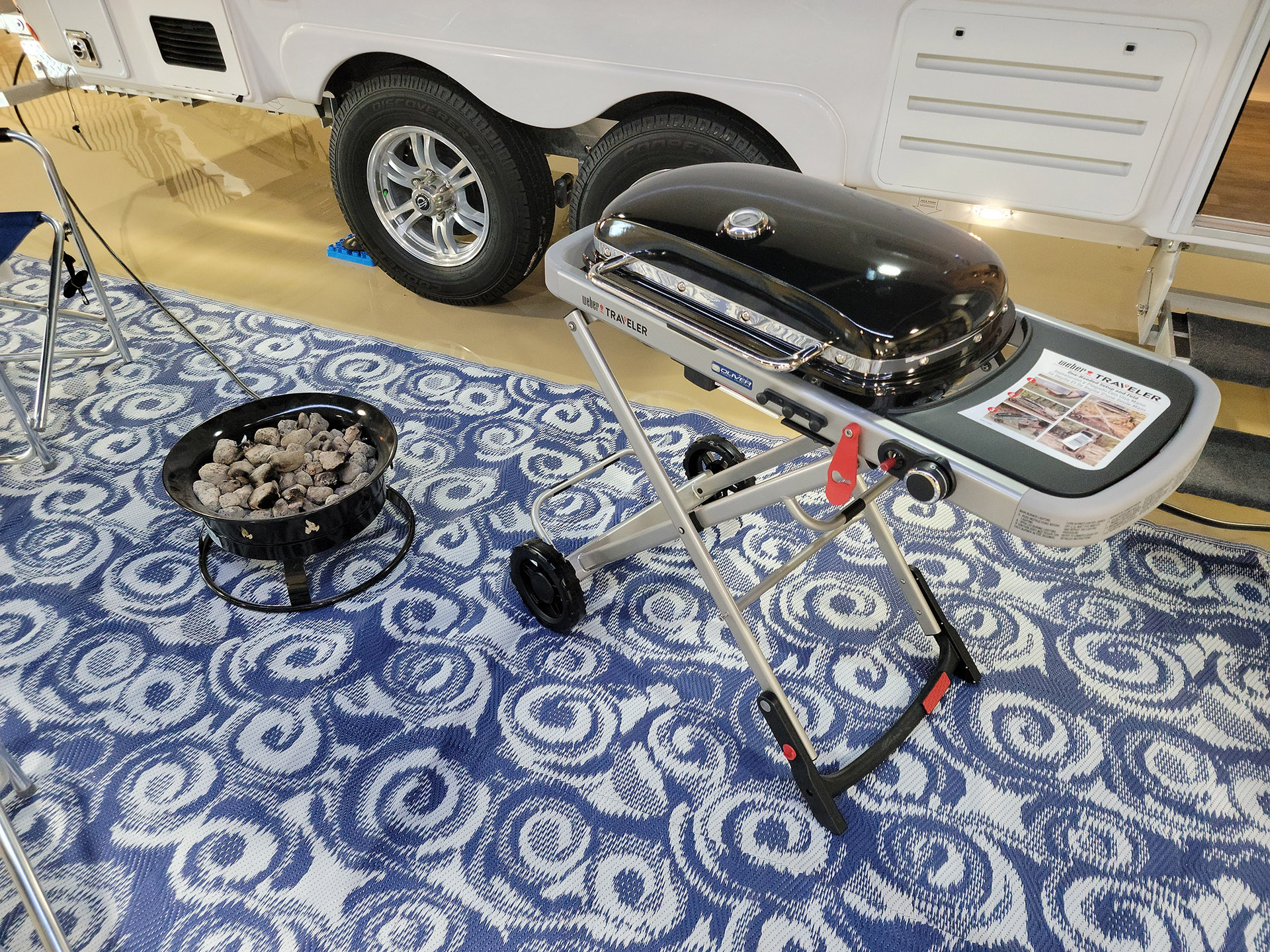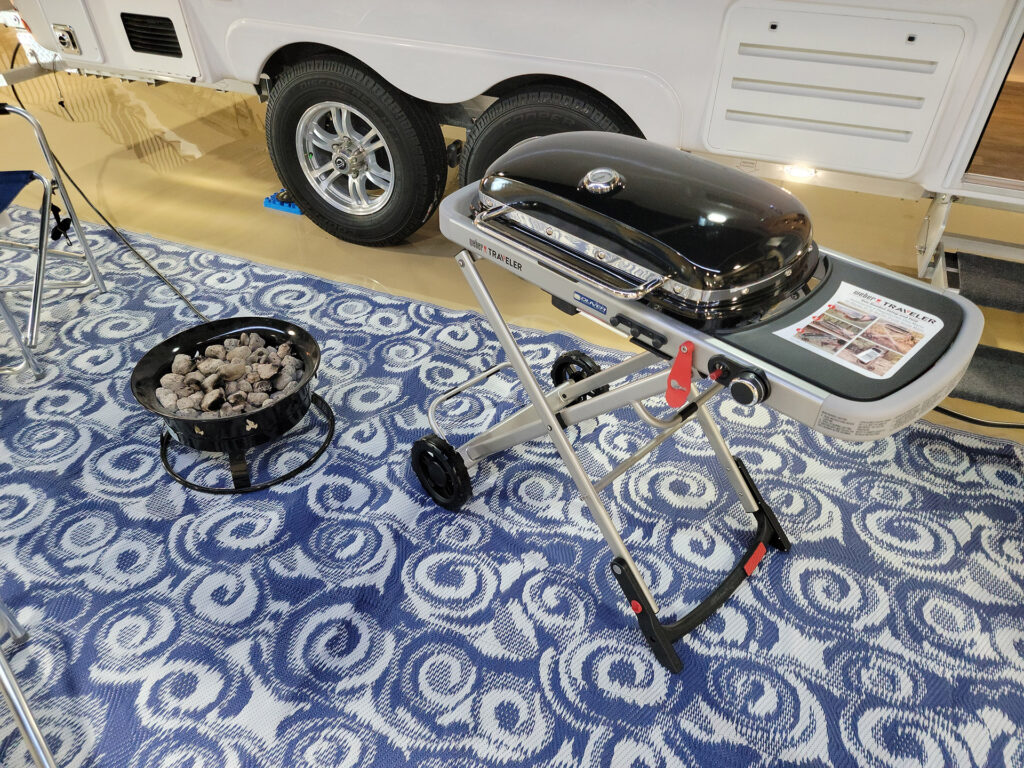 One of the downfalls when it comes to travel trailers is that their appliances aren't always top-quality. They'll work for your trips, but if you're planning to use your camper a lot, you might want to think about upgrading them. You'll have a better experience cooking in your trailer, your fridge will hold more and last longer, and your microwave or oven will work better. You'll be able to enjoy all of the amenities you're used to at home.
4. Unforgettable Comfort: Upgrade with Luxurious Furnishings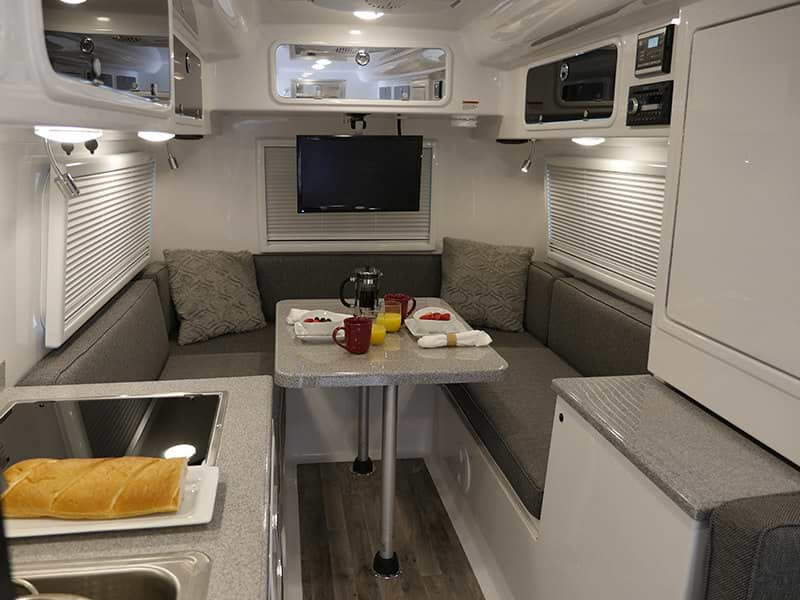 When comparing luxury travel trailers to lower-end models, one of the most notable distinctions lies in the quality of the furnishings. Luxury trailers typically feature higher-quality furniture and fixtures, significantly enhancing the comfort of your trip. While you might initially assume that a comfortable couch or bed is unnecessary for camping, having these amenities can tremendously elevate your overall experience. Not only will you appreciate the added comfort and relaxation, but these higher-quality furnishings will likely have a longer lifespan, ensuring continued comfort and durability throughout your travels. Remember to consider the impact that quality furnishings can have on the enjoyment and longevity of your camping adventures.
5. Convenient Laundry Solutions: Built-In Washer and Dryer
This is an excellent addition if you anticipate frequent laundry needs during your travels or have young children who enjoy exploring outdoors and getting messy. With a built-in washer and dryer in your travel trailer, you no longer need to carry all your dirty laundry when leaving your campsite. For extended trips or cross-country journeys, a washer and dryer become indispensable. Moreover, having this amenity enables you to pack lighter, freeing up valuable storage space for other necessities.
6. Effortless Clean-Up: Built-In Dishwasher
This is an excellent enhancement for travelers who enjoy cooking while on the road. With a dishwasher in your travel trailer, you can avoid the time-consuming task of handwashing dishes, allowing you to spend more quality time with your loved ones around the campfire. Bringing the convenience of a dishwasher from home to your travels adds a touch of luxury to your experience.
7. Cozy Ambiance On-the-Go: Fireplace
There's no greater comfort than cozying up to a fireplace after a day filled with hiking or sightseeing. While outdoor campfires are delightful, having an indoor fireplace in your travel trailer provides a superior experience, especially during inclement weather or freezing temperatures. Additionally, the warmth and ambiance of a fireplace create a homely atmosphere, making your travel trailer feel like a true home away from home.
8. Ultimate Entertainment On-The-Road: State-of-the-Art Television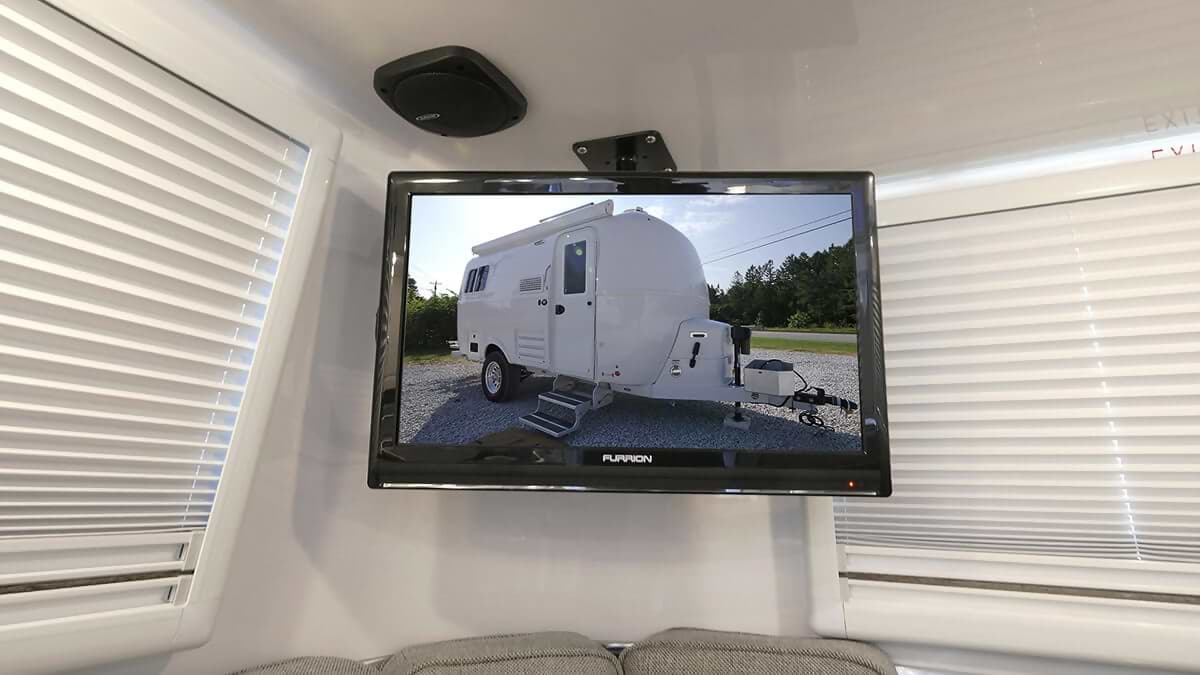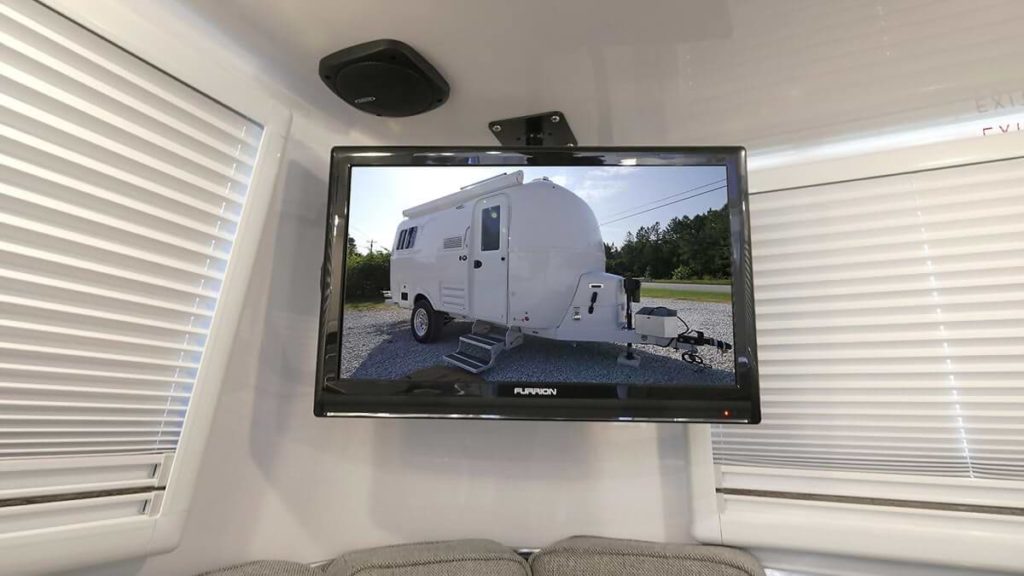 This is an excellent addition for travelers who desire the ability to watch their favorite shows while on the road. Television in your travel trailer provides entertainment options, especially during inclement weather or when indoor activities are preferred. If you have full hookups or access to WiFi, you can enjoy your preferred channels or streaming services. Never again will you miss a crucial game or the latest episode of your beloved TV series! Stocking your trailer with favorite movies also allows for enjoyable movie nights with friends and family.
9. Power On-The-Go: Reliable Generator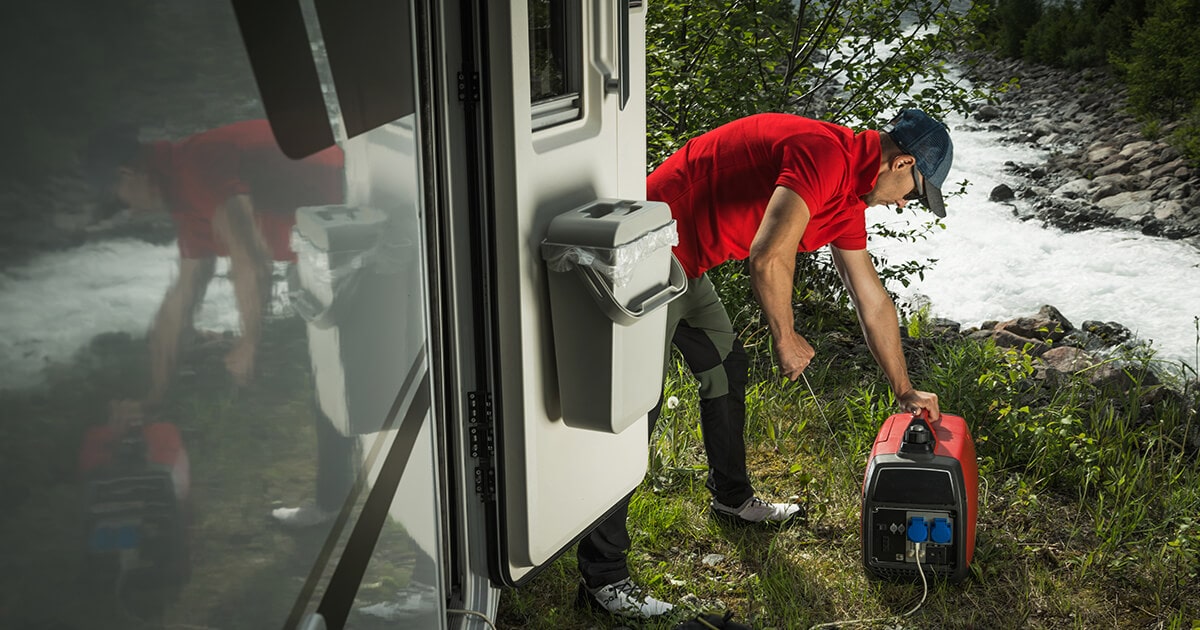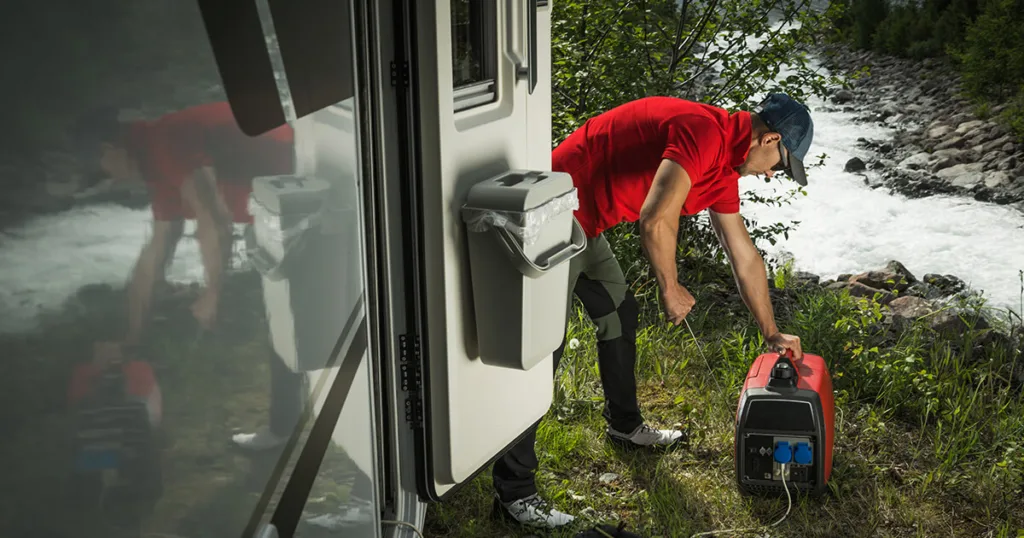 This is an essential upgrade for travelers seeking to power their trailers when traditional hookups are unavailable. A generator becomes indispensable in enabling the operation of appliances like air conditioners and other necessary devices while off the grid. If you anticipate boon-docking or venturing off the grid, having a generator becomes a necessity rather than a luxury. It ensures a self-sufficient and comfortable experience during your travels.
Suppose you're in the market for a travel trailer. In that case, it's crucial to carefully consider your needs and desires in a vehicle. While upgrades can come at a cost, they have the potential to significantly enhance your travel experience, making them worth the investment. Consult with your sales associate to explore available upgrades and discuss financing options. Choosing the right upgrades can ultimately improve your overall travel trailer experience.