Fiberglass Travel Trailer Shell Construction
The Two In One Factor
It takes four fiberglass shells to build an Oliver, two inner shells and two outer shells.
Molded Fiberglass RV
The lower outer shell is first bolted to the aluminum frame. Some of the electrical wiring, all the plumbing lines, and the holding tanks are placed inside and the connections are made.

Next the "inner bubble" is created by the bonding of the upper and lower inside shells. Inside the "bubble" created by these two shell are molded the seats, counters and cabinets.

At this time, all appropriate holes are cut into the "bubble", the cabinets are finished off with their lighted interiors and doors, more electrical wiring is added and connected and the "inner bubble" is lowered inside the waiting lower outer shell.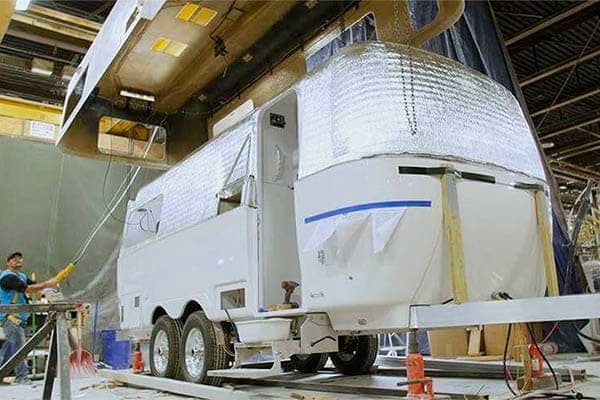 Plumbing connections are made in the kitchen and bath areas, wiring is connected to the lower areas and the upper outer shell is affixed to cap it all off. The series of pictures illustrates the process of producing each of the shell pieces.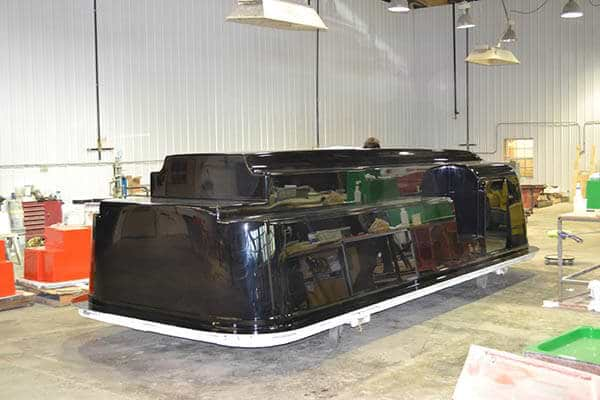 Superior Finish
For a superior finish you have to start with a clean and polished mold. Any imperfections in the mold will show up in the gelcoat. In the picture you can see that the finish is like a mirror.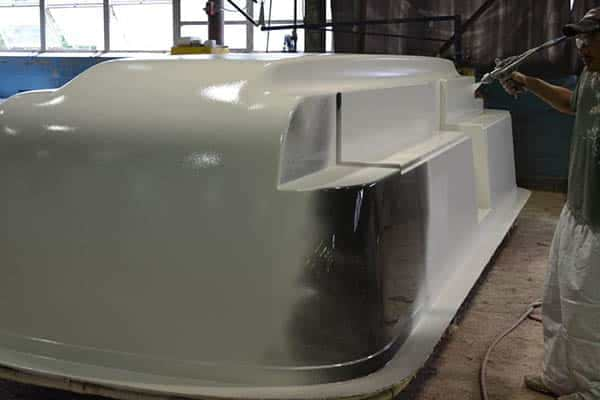 High Grade
All the shells are constructed starting with a transportation grade gelcoat that resists chipping from road debris and rocks. A UV protectant is added to help reduce fading by the sun.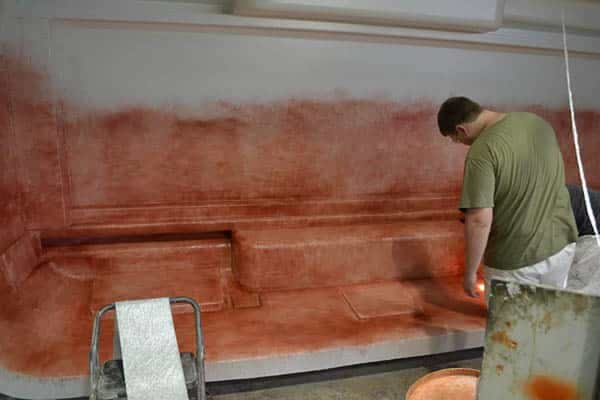 Hand Rolled
A skin coat of neat resin and chopped fiberglass is added and hand rolled to remove any air pockets in the shell.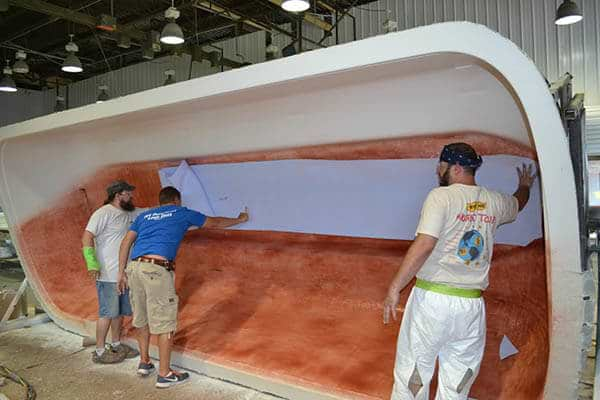 Reinforcement
Core mat is added to the roof and glassed in.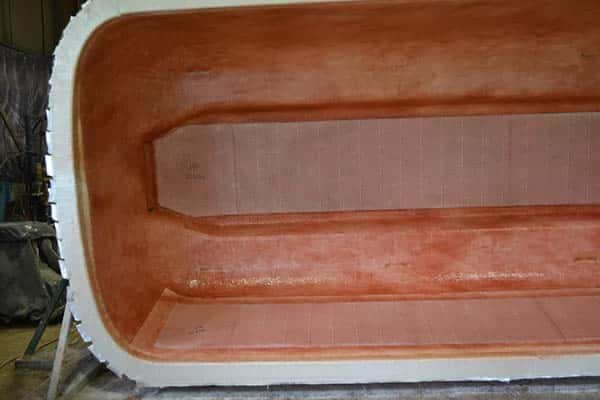 Additional Insulation
On top of the core mat, we add Carbon-Core, a very strong honeycomb type composite material. The air pockets in the Carbon-Core also serve as an additional layer of insulation. You can see where we do the same for the walls where the windows and other attachments are to be installed.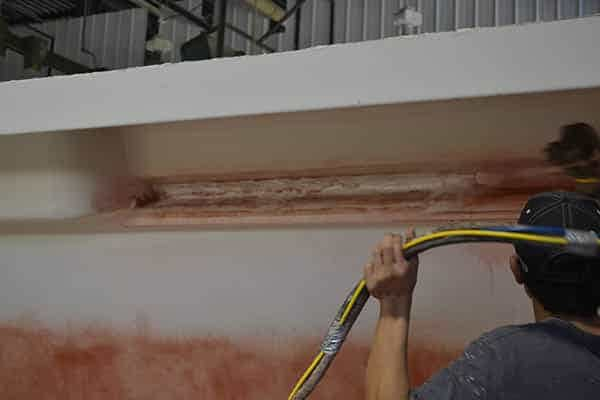 Strength and Support
On the outer lower shell, the channels for the frame are hand laid with two layers of woven mat and topped with a layer of bi-directional glass cloth. This adds strength and support to the area of the trailer where the frame and body come together.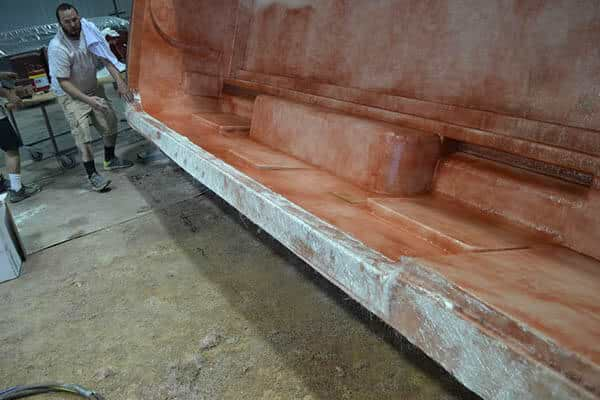 Layering for a Bond
The same layering process above is used on all four shells in the areas where they will later be bonded together.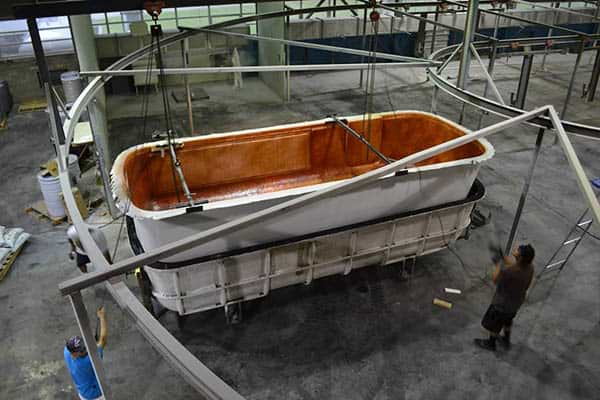 Mold Extraction
Once cured the shells are extracted from the mold and the cycle starts over to produce another set.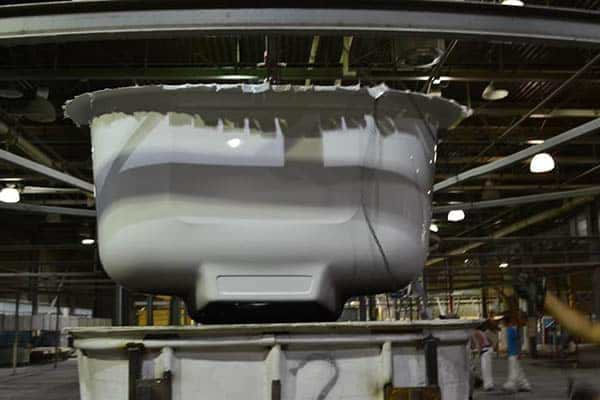 Top Shell is Finished
The pictures above show the top outer shell being pulled. You can see the location for the custom high mount Oliver light in the picture above.